Post by Dane on Jul 19, 2010 15:21:09 GMT -8
I have made a new thread for Northumberland Ferries as the previous thread is quite dated.
NFI is a Transport Canada subsidized ferry service between Caribou, NS and Wood Islands, PEI. Crossing time is about 75 minutes in predominantly open waters at just under 14 knots.
The two vessels on the service are quite different, and there are many photos below.
First the terminals.
Caribou, Nova Scotia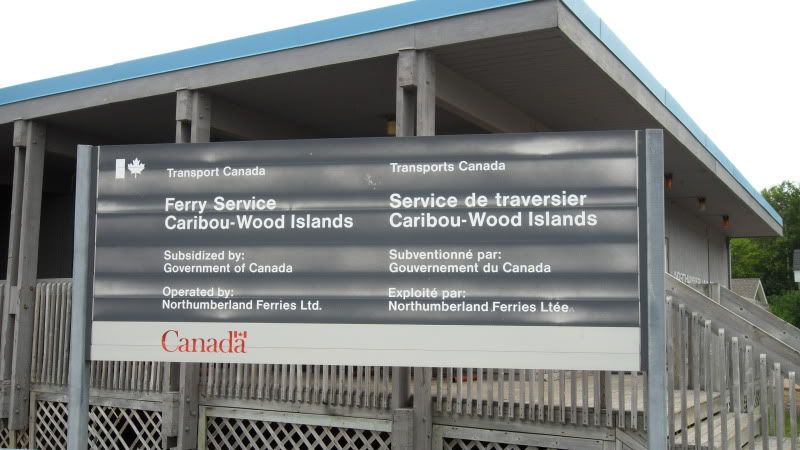 Like many of BC Ferries' routes you only pay one way, however unlike BC Ferries you pay to leave the Island, rather than get there so this is the free direction. Similar to Langdale there is a terminal attendant to great yiu and direct you to your lane. Reservations can be made in this direction, however you must also purchase the return trip (to avoid people taking the ferry to the Island, and the bridge off. This saves you about $25 is you do not calculate gas and additional mileage).
Service on this route receives a Federal subsidy because it crosses a Provinicial boundary. This subsidy is under constant threat, and I think is actually gone or severely diminished for next year - the Provinces have stepped in to keep the service going, however.
The terminal building is simple and a bit antiquated, but nonetheless more than adequate. There is a gift shop on the lower level, and a cafeteria on the main level. PEI also has a helpful visitor information centre.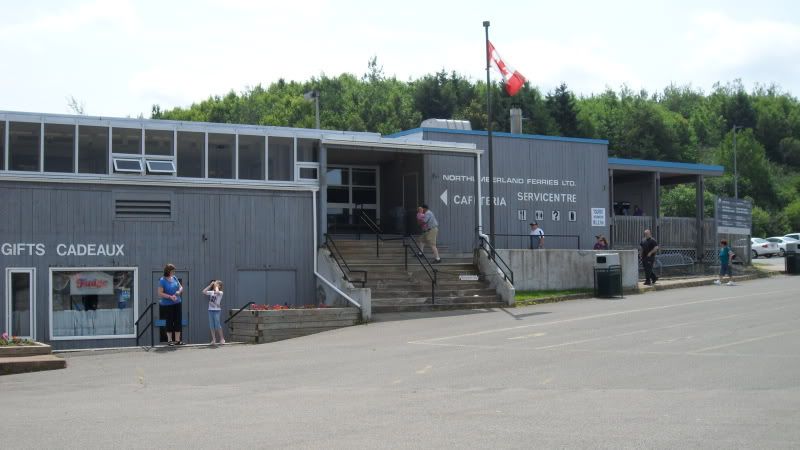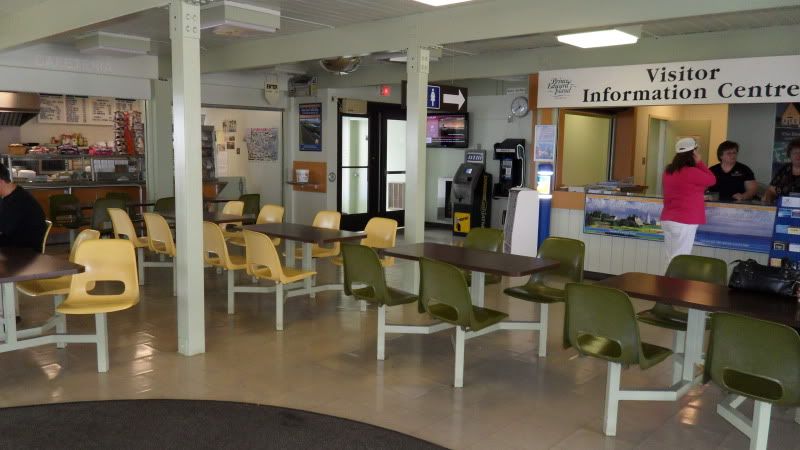 The holding lanes and traffic patterns are identical to BC Ferries terminals, fairly reminiscant again of Langdale.
There are two beths for this service. One for the MV Confederation, and one for the MV Holiday Island. Vessel design is quite different, demanding the different berth types; it must have actually been quite expensive to add the Holiday Island to the fleet given that entirely new dock structures were required.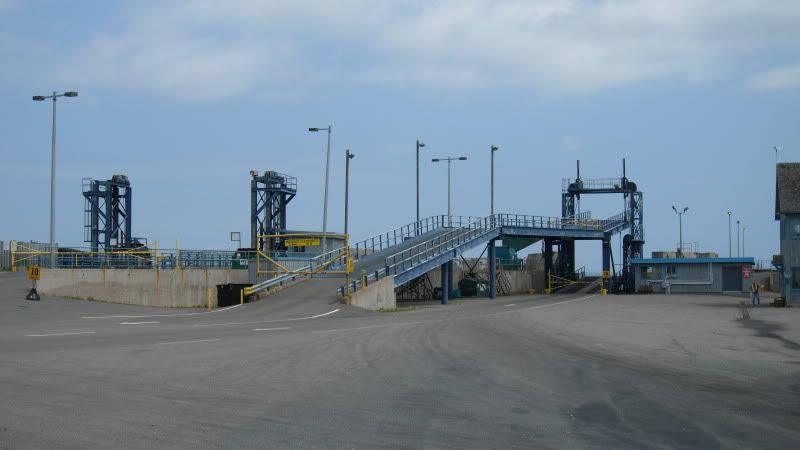 Wood Islands, PEI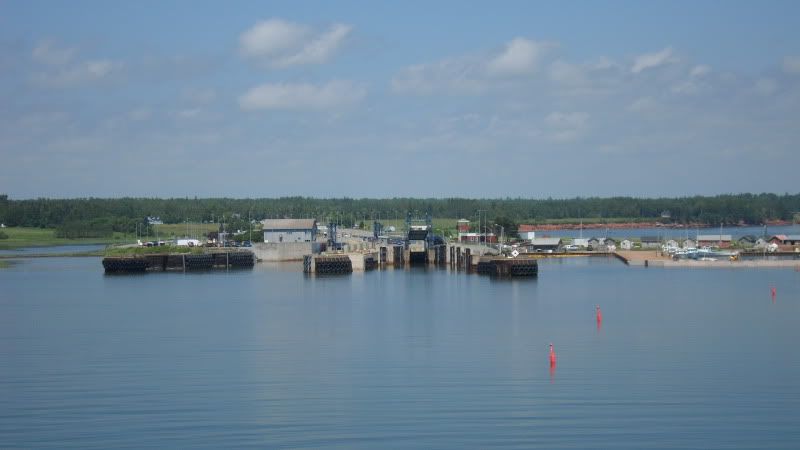 Wood Islands terminal is essentially the same as Caribou except there is a private take out seafood joint that looked quite alright (we were in too much of a hurry to stop by, we had actually planned to take the bridge and the ferry thing was fairly spontaneous). Again there is an awful cafeteria and a more expansive gift shop than on the Nova Scotia side.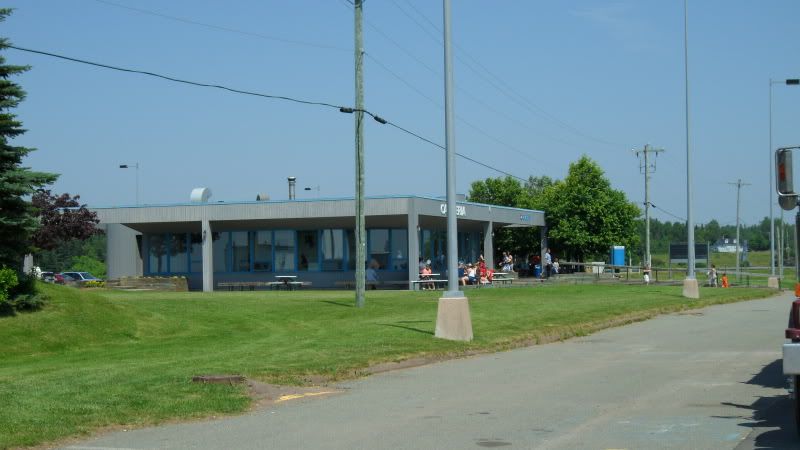 Announcements at both terminals are recorded, and in English et en francais.
Terminal staff wear an NFI T Shirt and their own pants; terminal directing staff were wearing their own clothing. Not as professional an appearance as on the West Coast, in my opinion.
Here there are three terminal booths as there is a requirement to pay. Quite different from BCF is the fare system, they charge for the car, it does not matter how many people are in it. It's about $65 and a $5 reservation charge if you're so inclined. Debit is accepted. Reservations are recommended for peak travel times, our 1pm departure from here left behind half a sailings worth of cars.
WiFi is available on the PEI side, as well at no charge.
MV Confederation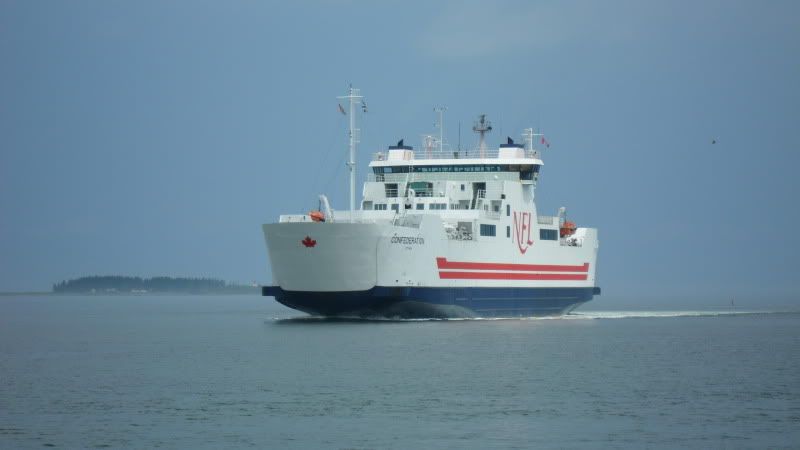 This ferry, built in 1993 by Transport Canada is a single bridged type design with three vehicle decks and two passenger decks. While I had exopected the gallery decks there is also a car deck below the main level which you drive into, and is where we were directed. It really adds to the ship's capacity. Capacity is 600 passengers with 18 staff (A License, the only one she holds) and 215 AEQ. Interestingly she is registered to Ottawa rather than anywhere local.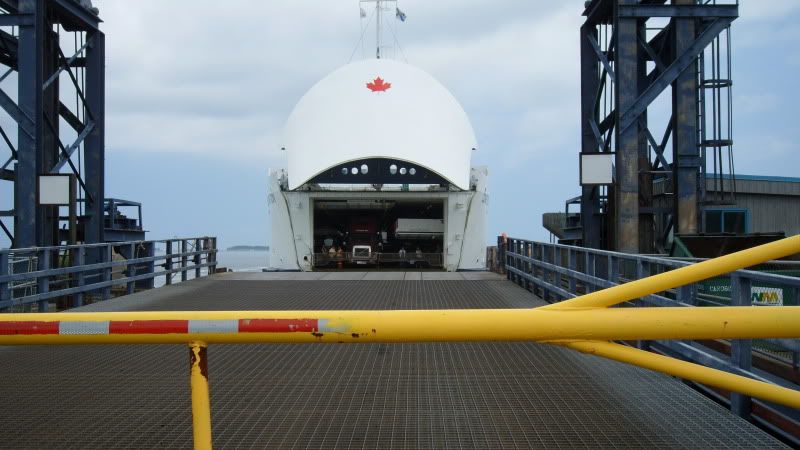 This is us heading into the ferry, with only one ramp you can see we are about to head down into the fairly large area below the main vehicle deck. Without a second ramp loading and unloading takes a very long time.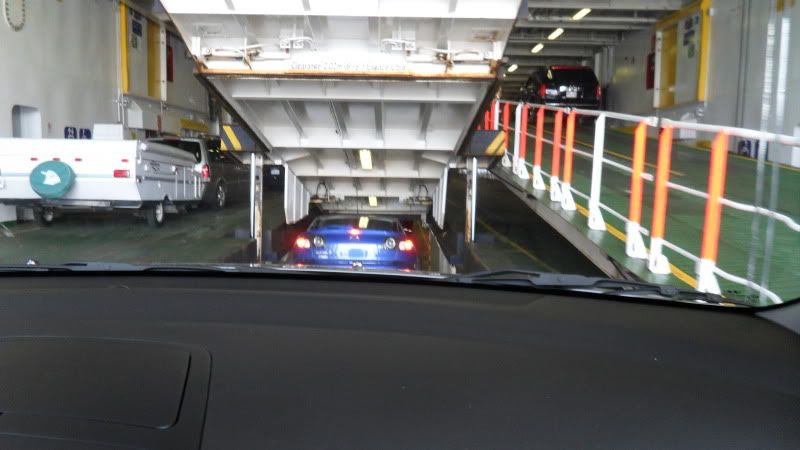 During loading the PEI side door is kept open a crack for ventilation.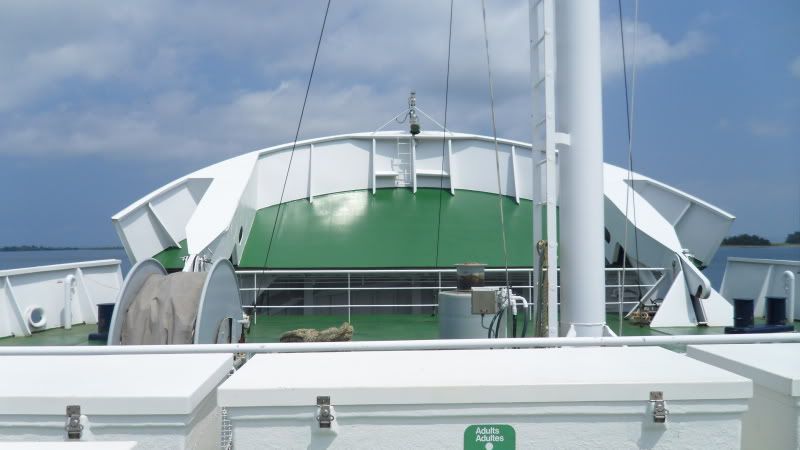 Inside is a bit smaller than I expected. On the main passenger deck about 70% of the deck space is occupied by the cafeteria.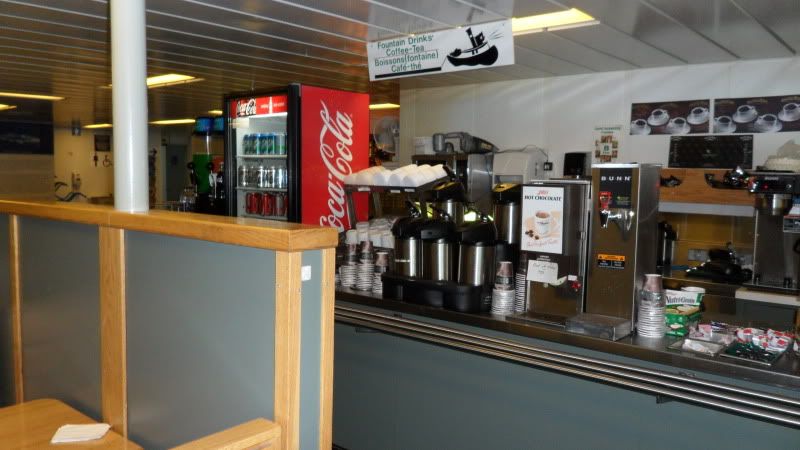 The other 30% is a passenger lounge where a live band played. They were pretty good! The seats leave something to be desired, and the vessel on the whole does not have adequate seating for large loads. I am curious what it is like in the winter when sitting outside is probably not a wise choice. On this sailing over half the passengers made their way outside.
A children's play area is included in this lounge as well; it leaves something to the imagination.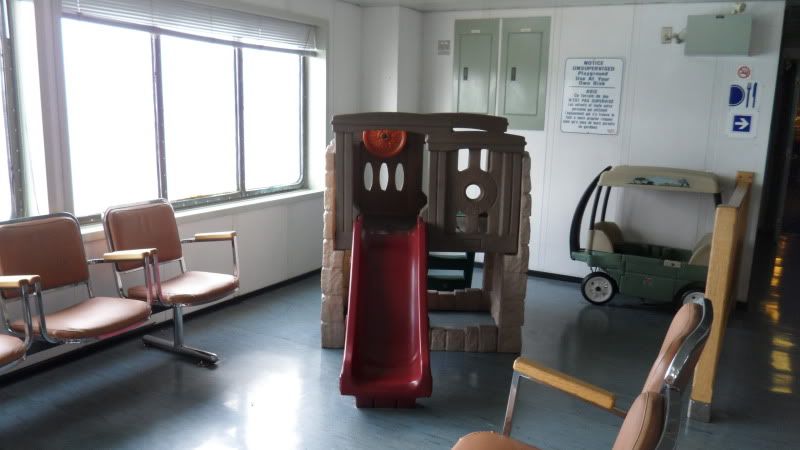 Moving upstairs there are two more nearly identical seating areas.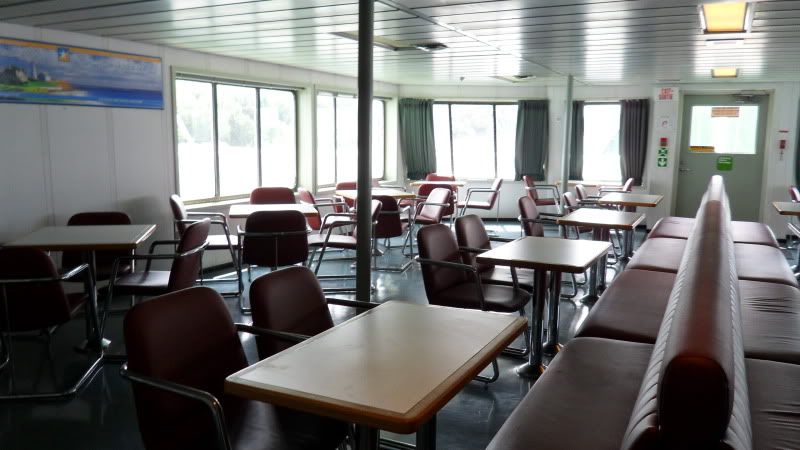 Between these two seating areas is a Cows Ice Cream store, and a closed gaming area which is currently an empty room.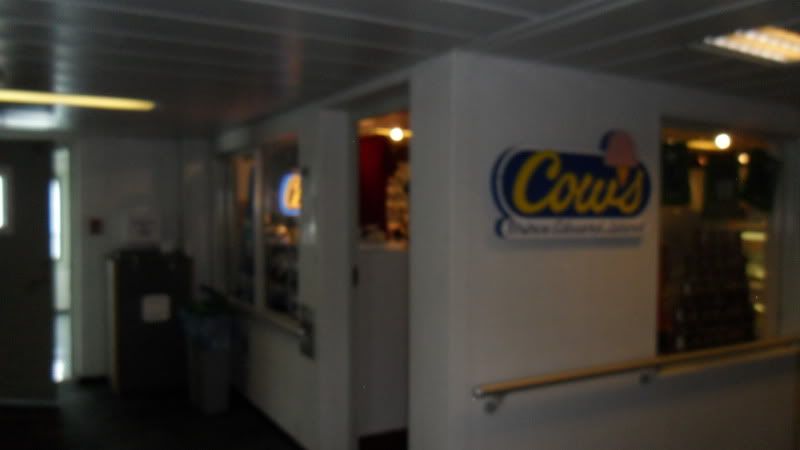 The food on the ferry is awful, it is Washington State style. Here is my $9 cheese burger combo which was made with a loving microwave and featured several condiments - nothing.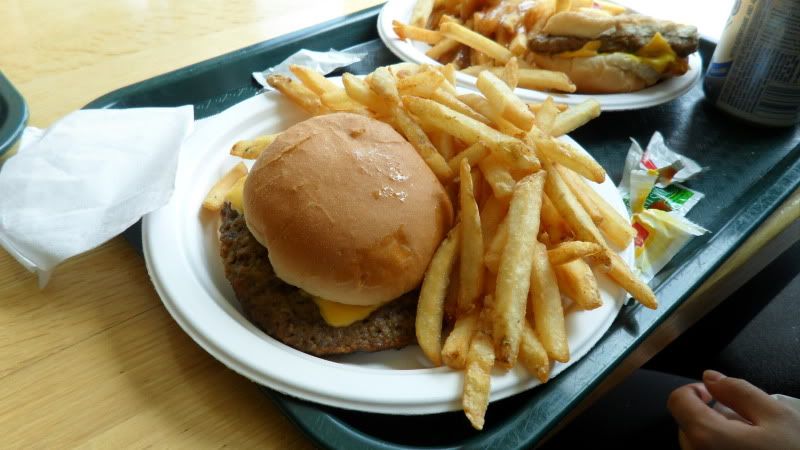 Other menu items include hot dogs, pop, water, apples, poutine and soup. That's about it actually.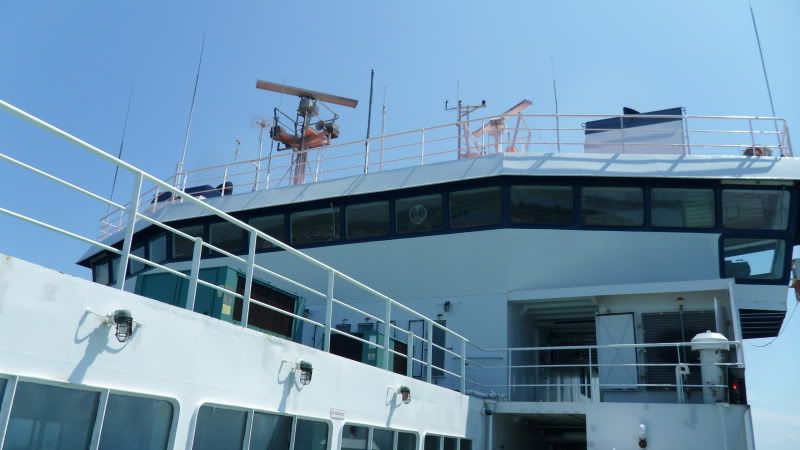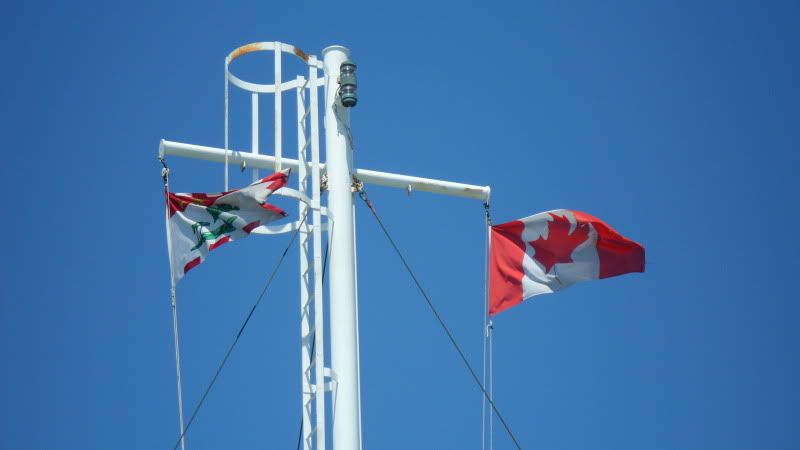 Approaching into Wood Islands terminal there is a waterway of sorts cut just for the ferry - must provide good protection when the vessels are tied up during storms.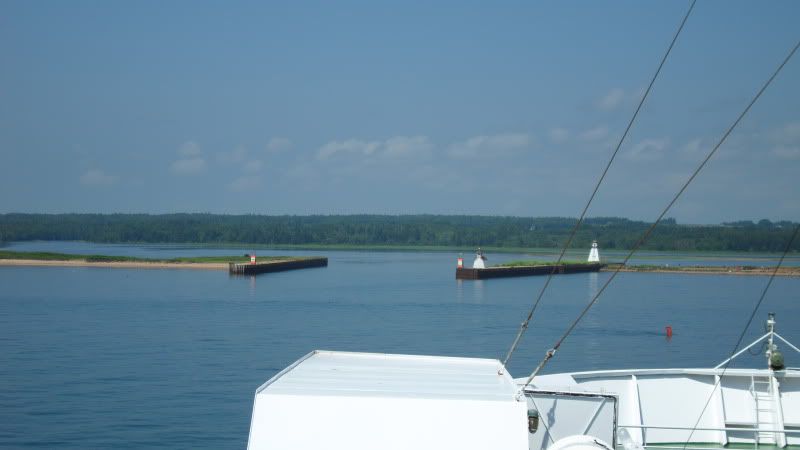 MV Holiday Island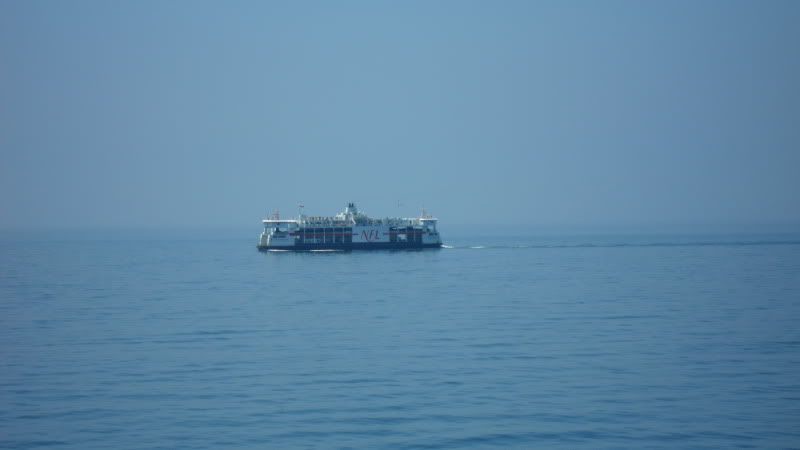 This is a more recent addition to the NFI fleet, coming from Marine Atlantic who disposed of her when the Confederation bridge opened linking NB to PEI, her former route. Built in 1971 for Canadian national Railway she is a double ended vessel sort of like a minuature C Class with two car decks and a single passenger deck. Capacity is 155 AEQ and for passengers a B License is 486 with 22 crew & A License is 386 with 18 crew (notice the licenses are reverse order from BC where A would be the larger capacity).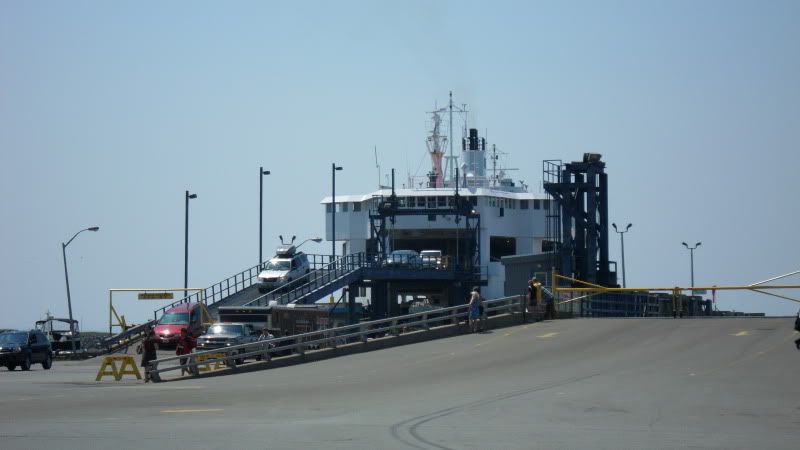 Like the Confederation this vessel has a simple no frills interior layout that gets the job done, for the most part. Seating is even more limited, and again like the Confederation I am curious what busy winter sailings are like, even more so because car deck access is not permitted on either vessel when under way.
Loading on this ship is essentially the same as BC Ferries. I didn't make it to the main car deck, but I do not believe there are platform decks. We were on the upper car deck which is three lanes wide on each side.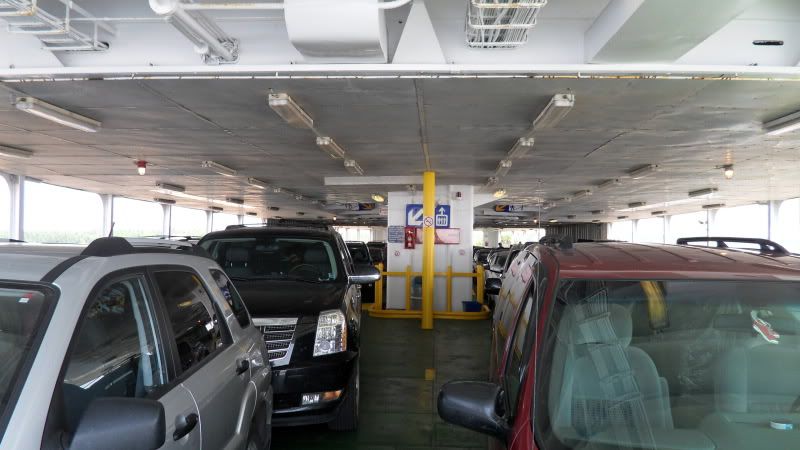 Holiday Island's cafeteria and seating area take up about 60% of the vessel. There is also a small tourist information stand here for both NS & PEI, as well as a closed video gambling area.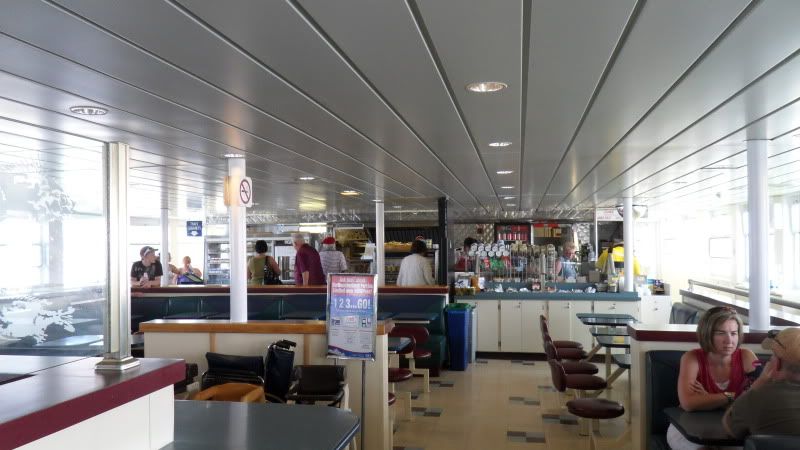 This vessel has no air conditioning, which is insane. Windows, however, do open for ventilation. It was quite an unpleasant sailing inside the ship.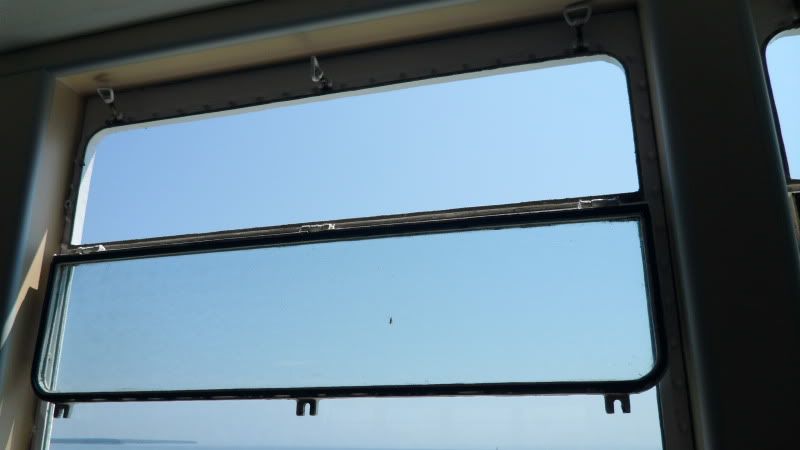 Outside there was a live band behing the bridge, which also had a nice seating area taking in some lovely breeze. (The band is not set up yet in this photo)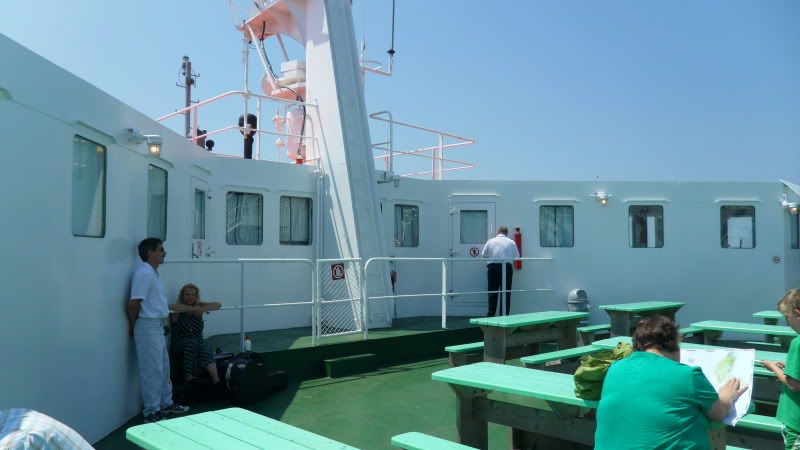 You can also go up one deck and have a lovely forward view.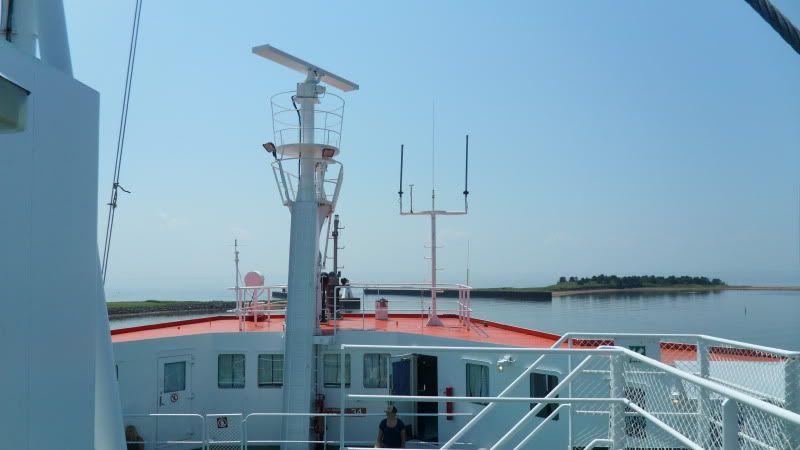 These two areas (behind the bridge and up one level behing the bridge) are closed off on the PEI end of the ship. Not sure why?
--
Both vessels, like the terminals, have automated bilingual announcements that follow the general style of the late 1990s BC Ferries announcements. Safety information is posted around the ship, but is not nearly as prominent as we are used to. Whistles for both sound like the Queen of Capilano.
Overall it was a great trip and I woulkd recommend anyone in the area take advantage of it. PEI is probably not the most entertaining destination for the under-80 crowd, though ;D