Post by EGfleet on Nov 22, 2010 16:11:06 GMT -8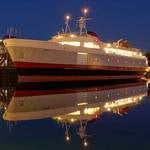 Bainbridge
was the first for BC.
It seems that all of our earlier car-ferries were single-ended, no matter how small or large.
Contrast that history with that of Puget Sound, where their history of double-ended ferries is much longer than ours in BC. I wonder if this is because the routes of Puget Sound have always been shorter than our typical BC routes, therefore making it more practical to use double-ended ships.
...but then how do we explain the little ships on short-routes in BC such as George S. Pearson, Ethel Hunter, Catherine Graham, Cy Peck, Brentwood, Mill Bay.......all of which were single-ended on short routes?
Prior to the California boats coming to Puget Sound, the majority of the boats working for PSN were single enders...come to think of it, I can't think of one that wasn't...
Quillayute, Seattle, Chippewa, Indianapolis, Kalakala, Ballard...
This was due mainly to the fact that nearly all those boats were converted steamers. It was just cheaper to leave it in the single-end configuration.
KCTC started the charge of double-enders with the
Kitsap,
Bainbridge
and
Vashon,
and I expect once that Peabody saw how efficiently they worked--especially after PSN absorbed KCTC he figured that was the way to go. Peabody snapped up as many double ended ferries as he could when the Bay bridges opened, and one by one the single-enders went to the bone yard--save for the Bremerton run where at that time the single enders could still operate faster than the double enders, and that was where time considerations were still an issue.
Interesting to note that after 1938 PSN did not purchase any single enders save for the
City of Sacramento
and the
Napa Valley
. Those two were purchased solely for the Bremerton run because of the huge amount of traffic traveling to and from the shipyard. As soon as the war was over and traffic returned to normal levels on the run those two were pretty much tied up. And the only ferry PSN built that were single enders after that time was the
Chinook,
which was a different animal entirely and built in direct competition with the Princess boats.
I have always wondered though why Captain Peabody kept the vessels he did to start operations in Canada. The Chinook is a no brainer, but why the
Bainbridge, Quillayute,
and
City of Sacramento
? He must have had the rebuild of the
CoS
in mind, but why those other two? I've never been able to find an answer to that.