Post by Dane on Jan 3, 2012 20:29:54 GMT -8
MV Coho -
Victoria Harbour to Port Angeles - 18 Dec &
Port Angeles to Victoria Harbour - 19 Dec
There are several trip reports and photos in the MV Coho photograph thread (http://ferriesbc.proboards.com/index.cgi?board=waferries&action=display&thread=7749&page=5), and I will save you from looking for anything new in this thread - like all things Coho it is essentially the same year over year.
However, with that said, this was my first trip on the Coho which I have watched come in and out of the Victoria Harbour for years. It was a Birthday gift for me, with a one night stay in Port Angeles at the Red Lion hotel.
On 18 Dec we left Vancouver early on the an uneventful sailing aboard the Spirit of British Columbia.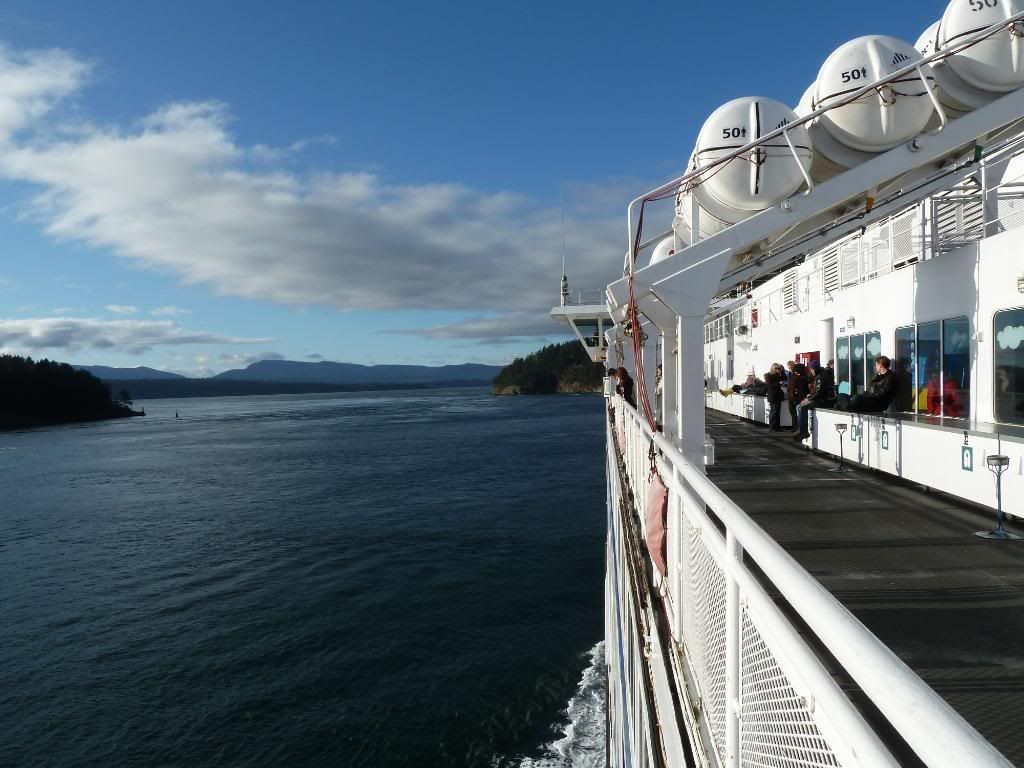 The Spirit was busy for the holidays, and we enjoyed the Asian Noodle Box and Salmon in the Cafeteria. Almost two weeks into my Christmas vacation at this point I needed to go easy on the buffets.
We drove into downtown Victoria, and parked for free in one of the residential areas somewhat near downtown. I am sure residence appreciate that. Arriving at the terminal by foot we approached the ticket wicket where they had both our tickets for both South and North journeys, and the voucher for our hotel room.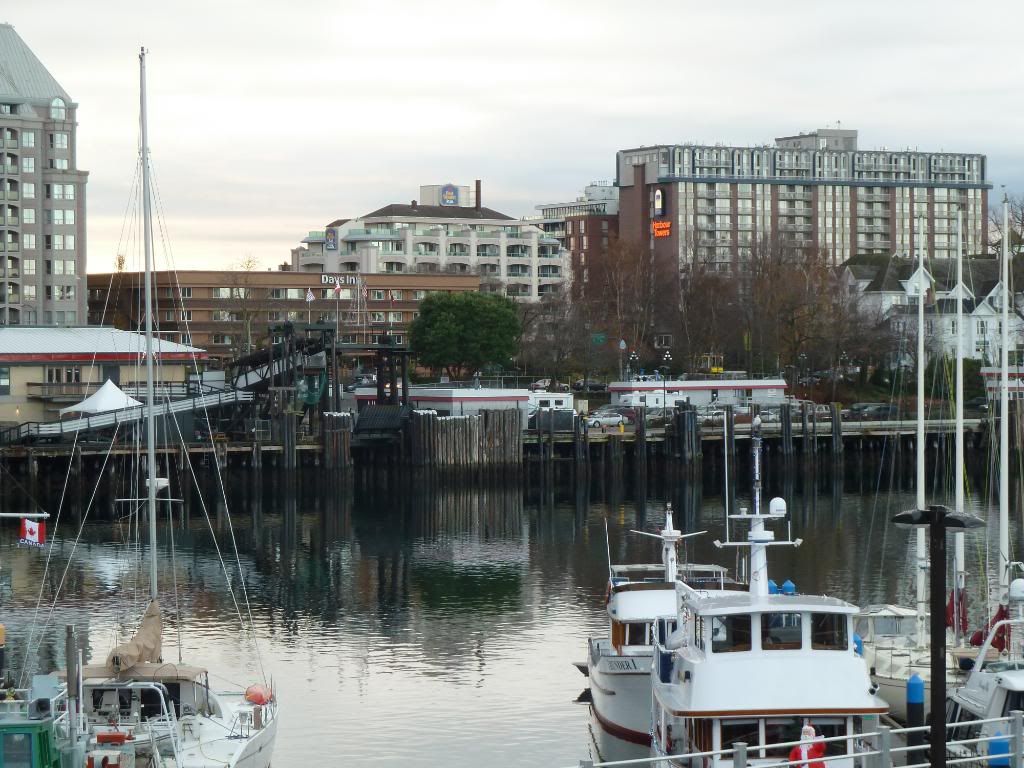 The terminal is not particularly exciting, but extraordinarily well placed in the heart of the harbour. You cannot ask for much more as a tourist for the view, or for an accessible location (at least given the user base of the ship.)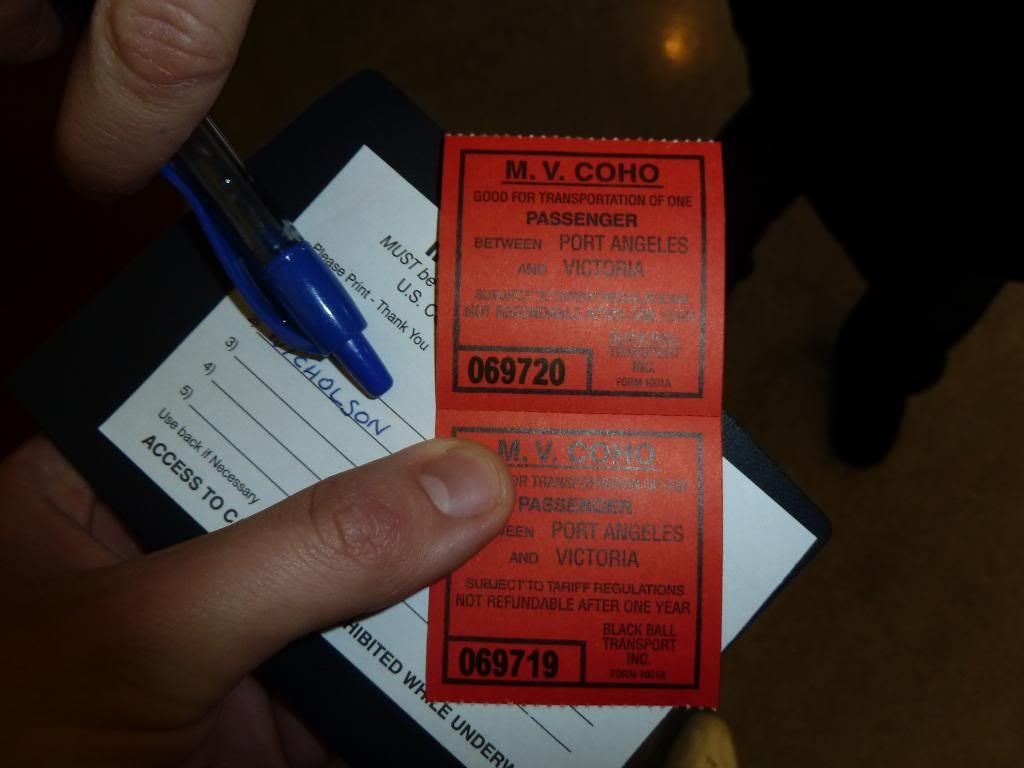 With the tickets also came our US declaration of stay; we had not yet realized you actually go through US customs twice. You'd almost think we were entering a communist state with that stunning lack of efficiency. Regardless getting through customs was no real issue, after I described how I ended up coming from Shilo, MB to take a trip over to Port Angeles.
The vessel arrived on time.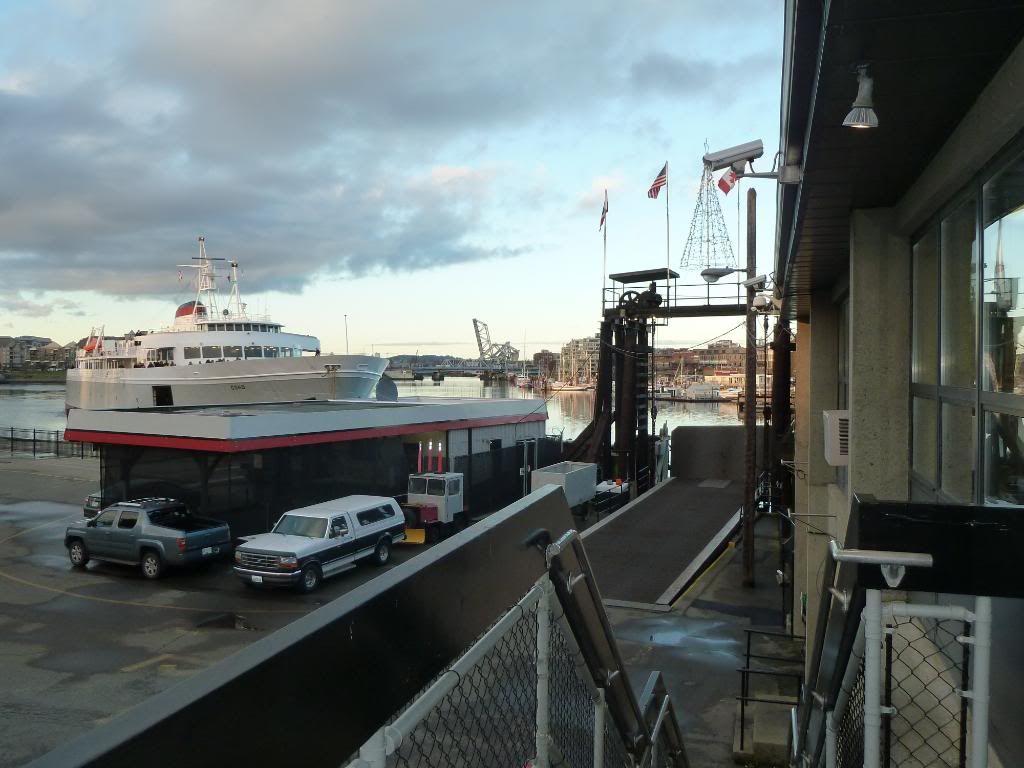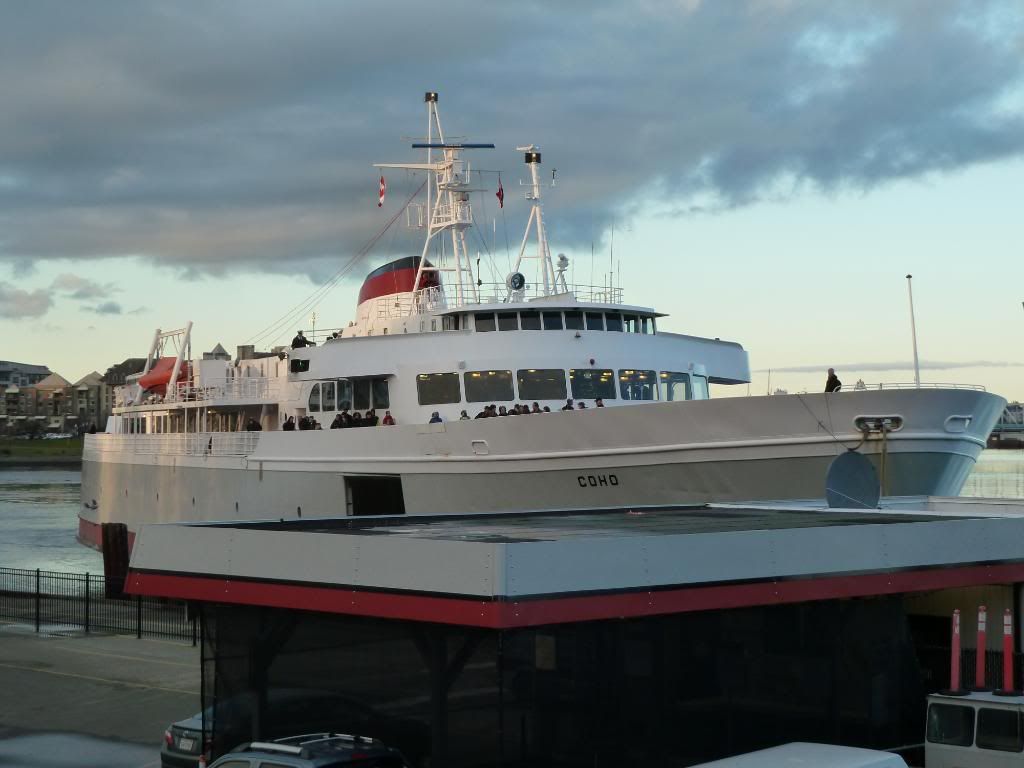 The Southbound sailing was well patronized, but no where near full for both foot passengers or vehicles. The vehicle compound can be seen below here, with exiting vehicles approaching Canadian customs. Any vehicle that does not pass Canadian customs inspection is liable to be returned to the United States at Black Ball's expense.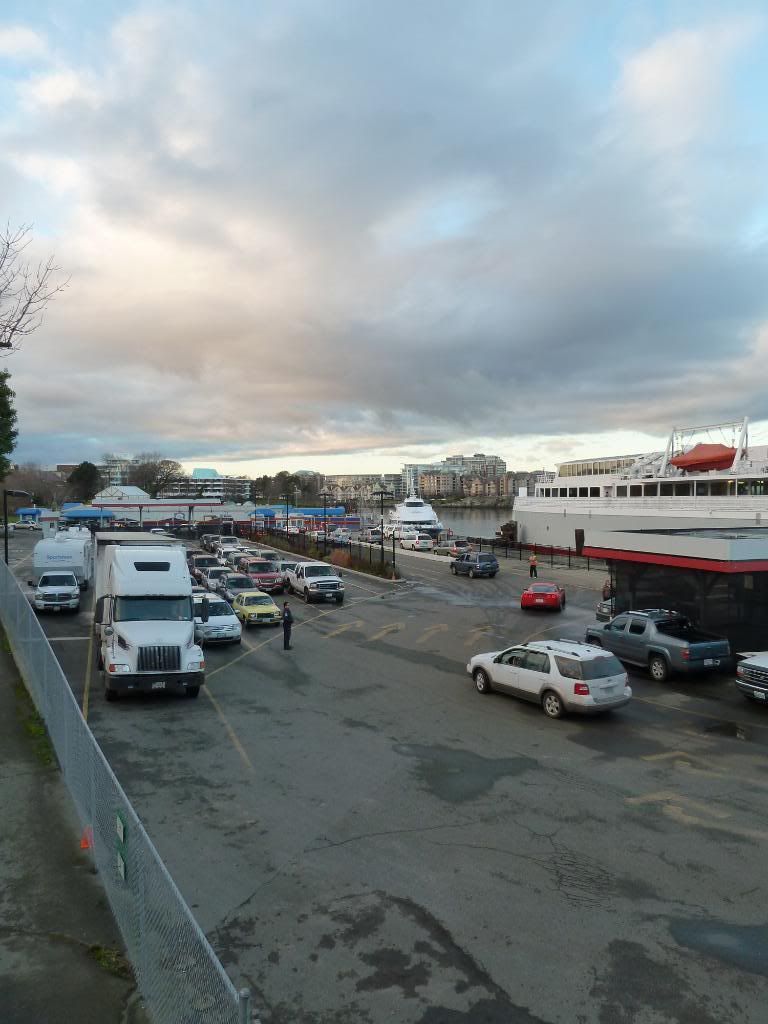 We boarded the vessel about 15 minutes prior to departure. An very friendly Coho crew member took our tickets on the ramp, wishing us a welcome aboard and Merry Christmas! Not quite the same as the sea of humanity that boarded the Spirit of British Columbia earlier in the day at Tsawwassen.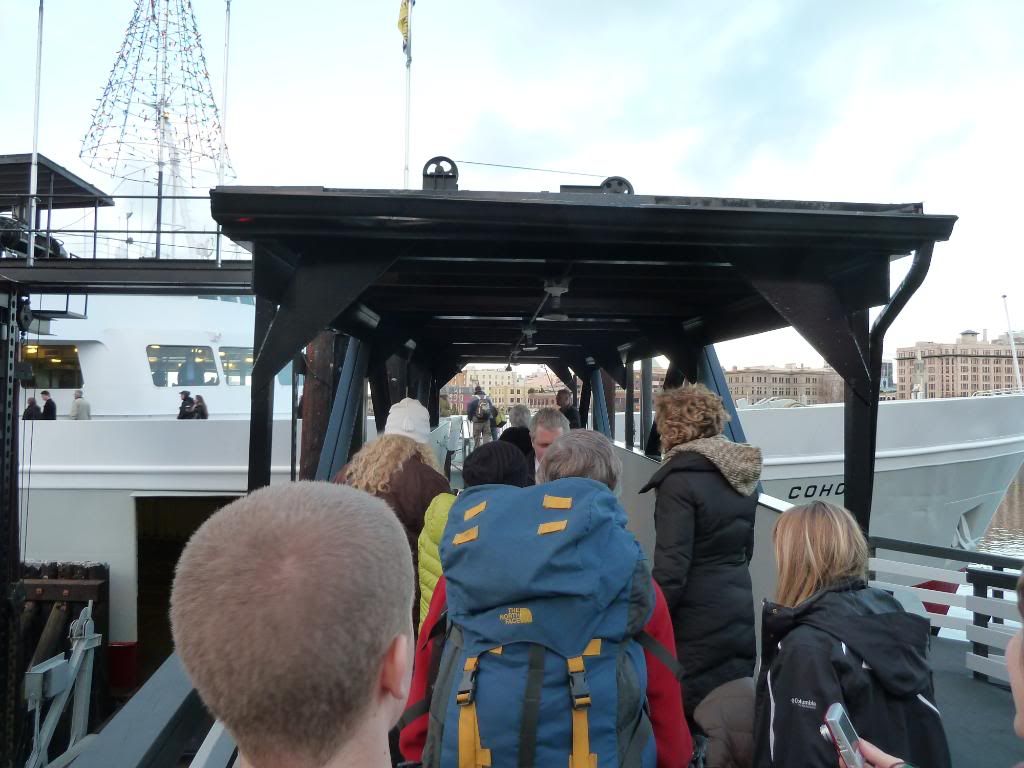 On board the expected retro design was found. In some ways it is totally unique, and in other ways shot back memories of days gone by for BC's Spaulding designed single enders.
A few points of note -
The Barbara Streisand room where the celebrity had once stayed during the crossing to gain some privacy.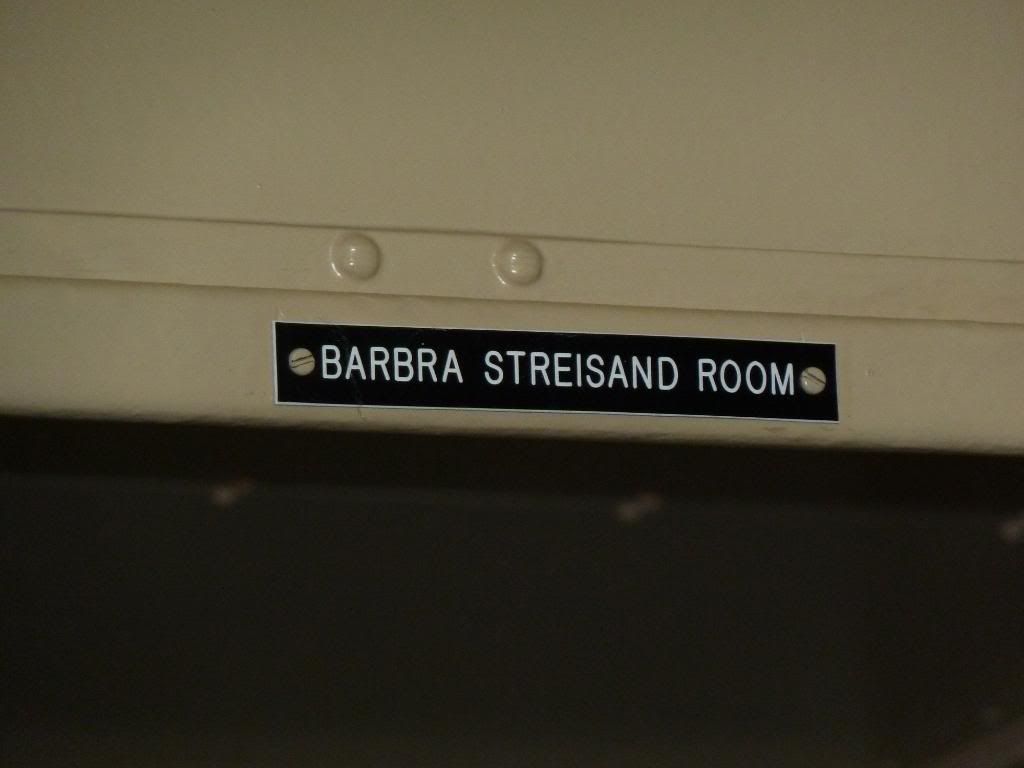 There are two flat screen TV's aboard which add a dash of modernity amongst the tile-less ceilings and chairs that strike memories of Woodwards.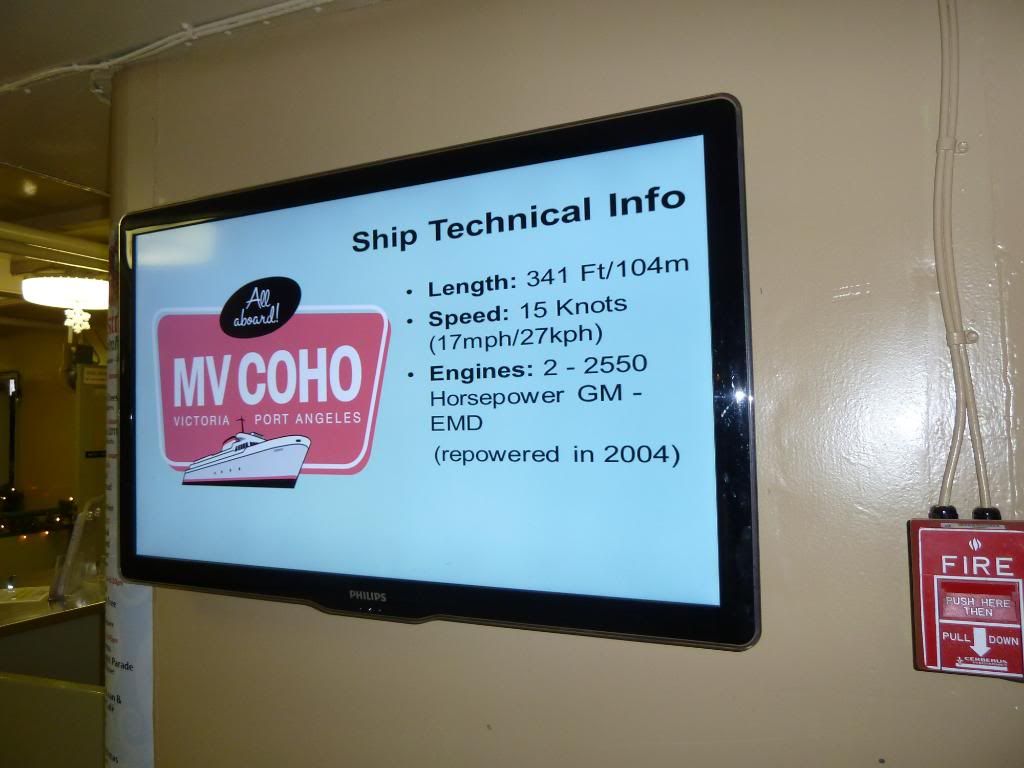 The Cafeteria area which apparently has been rebuilt somewhat recently. One can only ponder what this looked like before... (actually ponder no more, the photo thread shows it).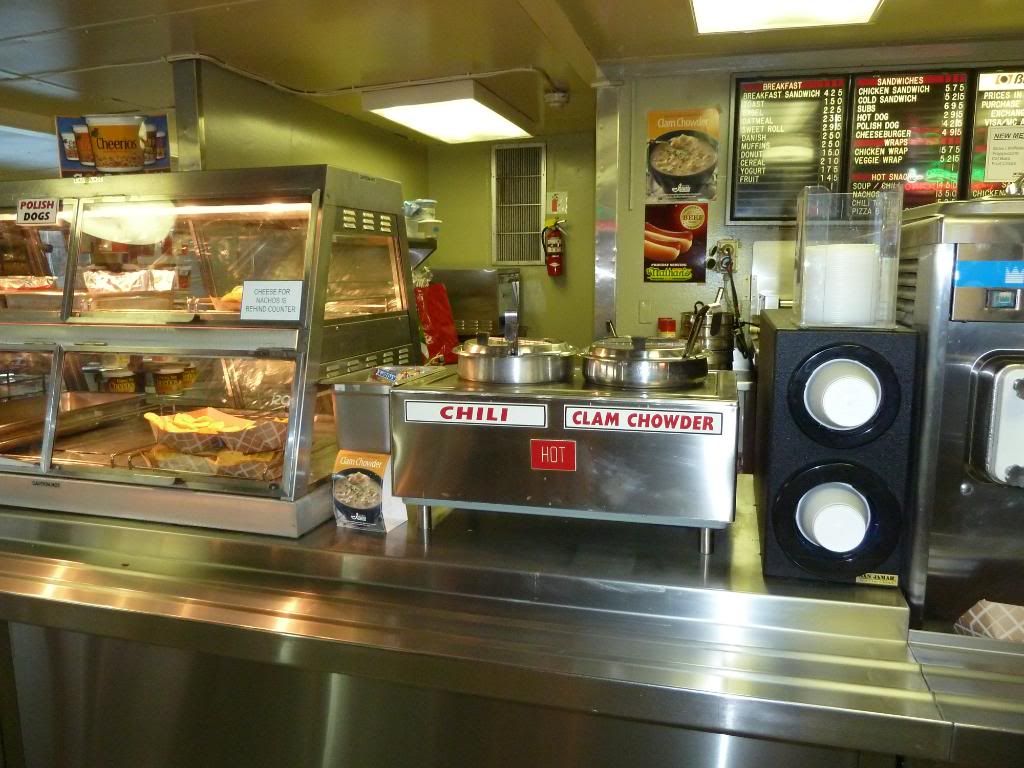 With a lack of BC Ferries printed schedules Black Ball has made some cut out pieces of paper given phone numbers and the web address for BC's fleet. Washington State's printed schedules sit immediately adjacent to this.
Some absolutely amazing views leaving Victoria, with calm waters and high overcast skies. For December this was amazing weather, as the temperature was also several degrees warmer than normal for this time of year.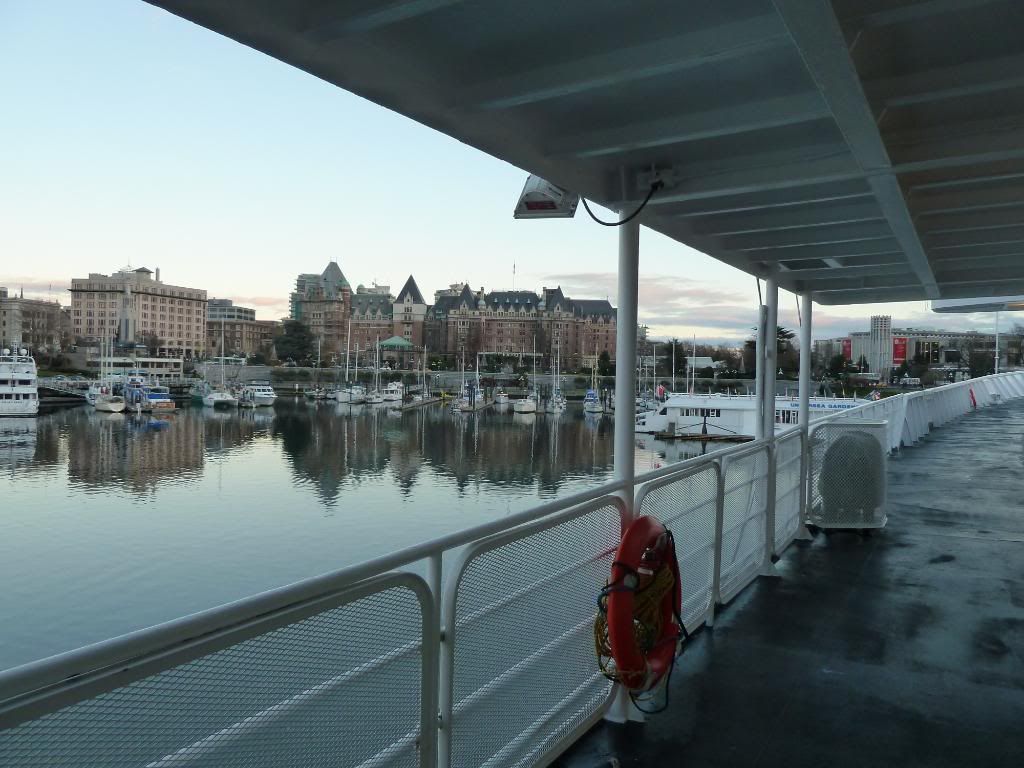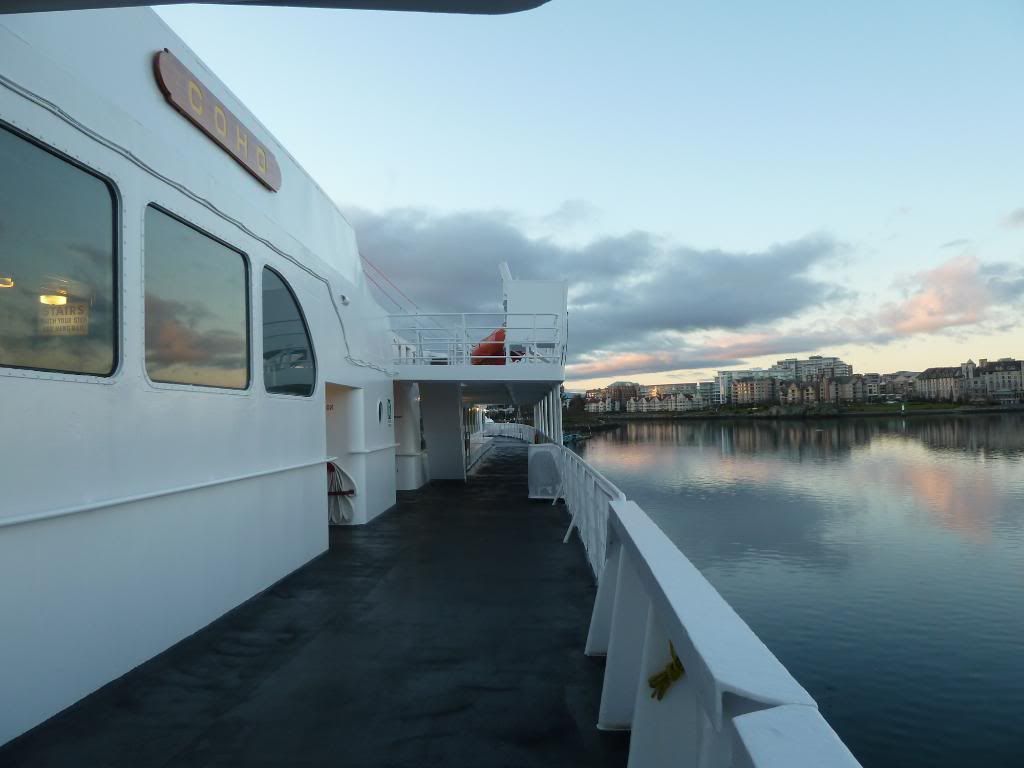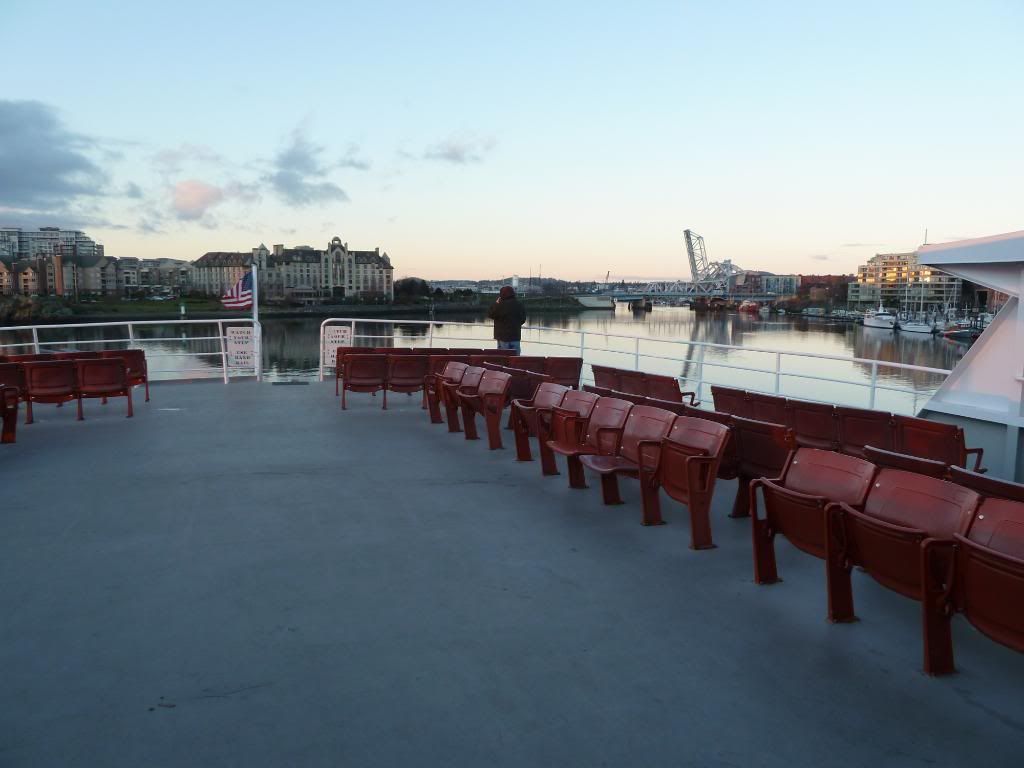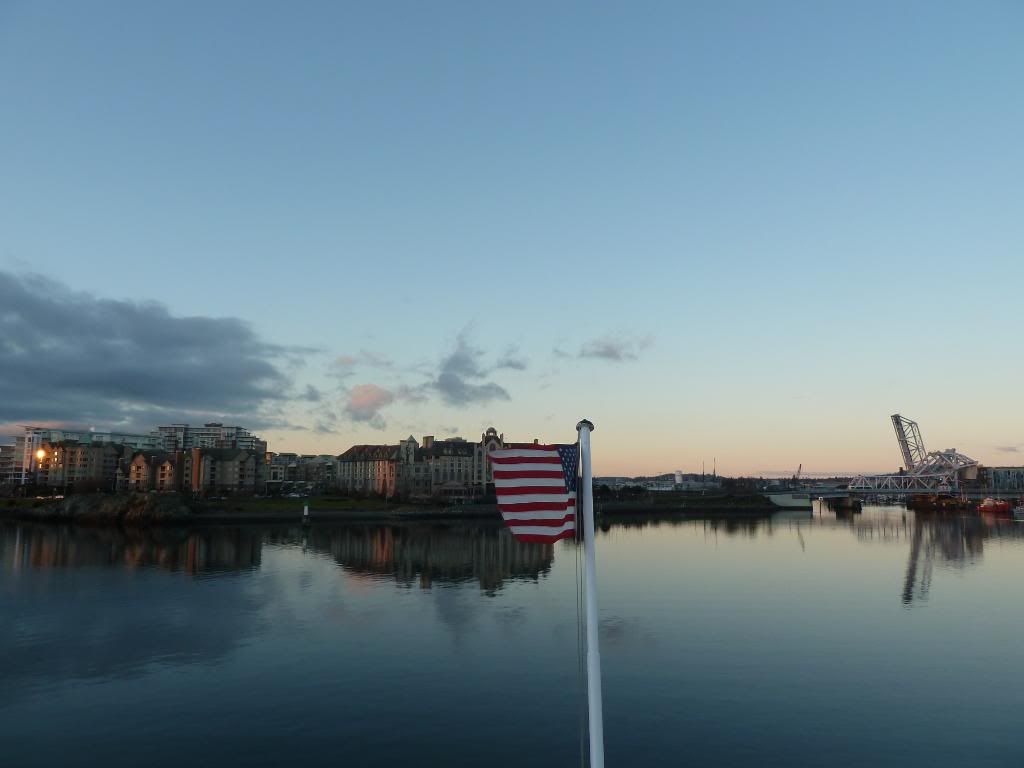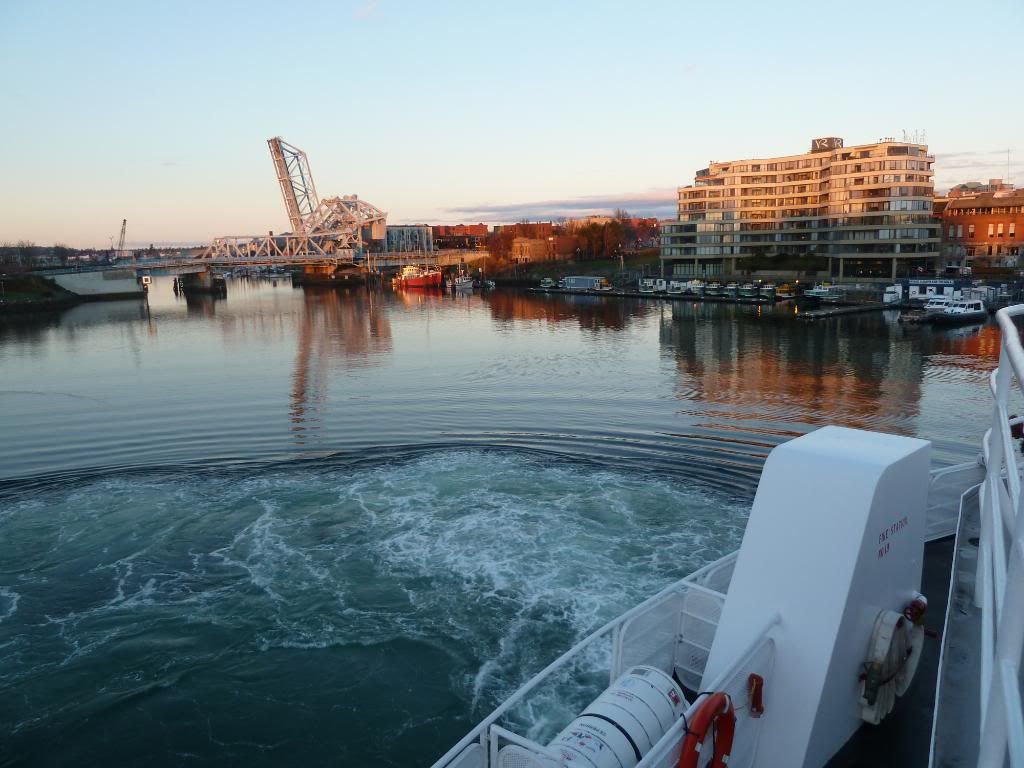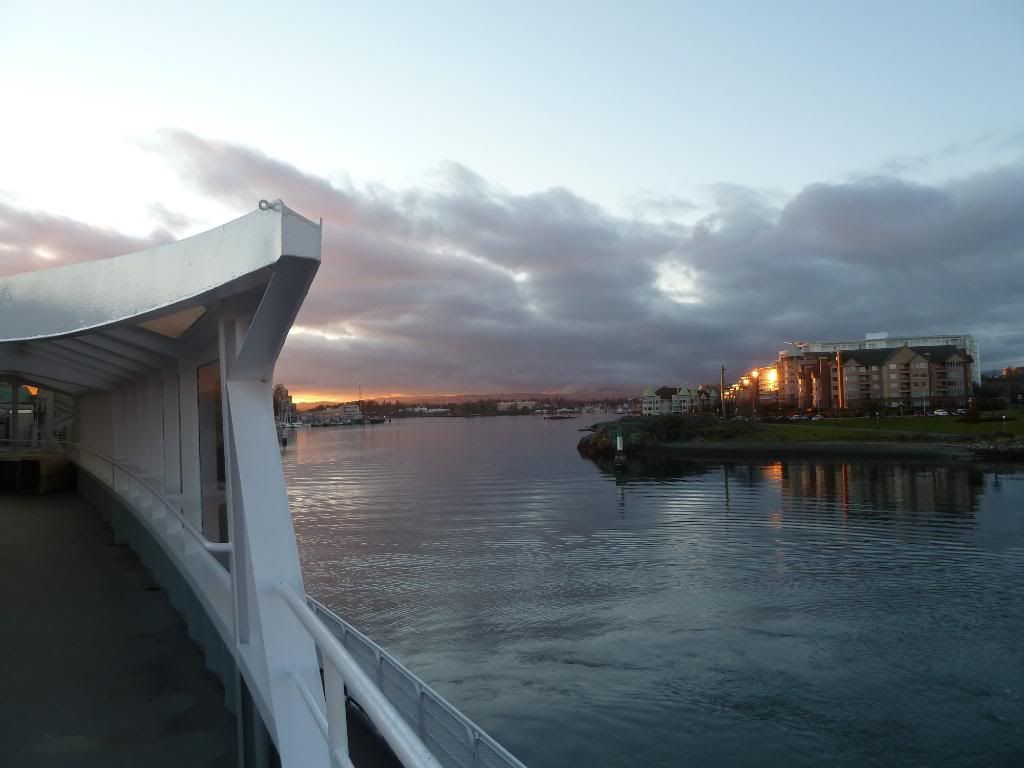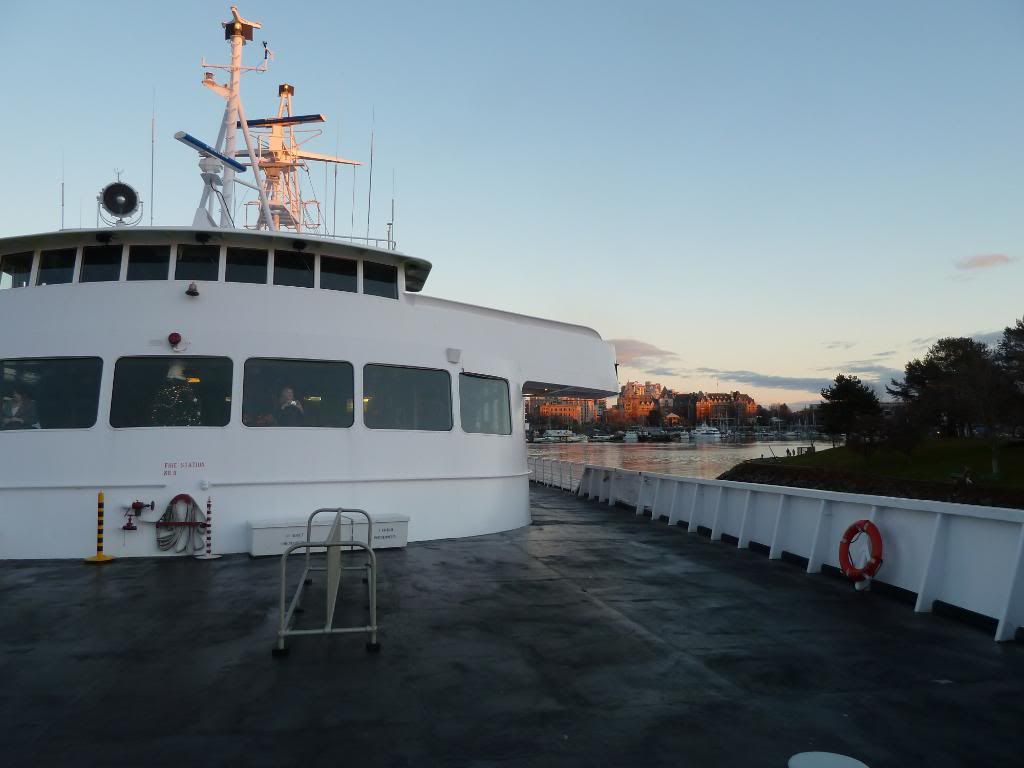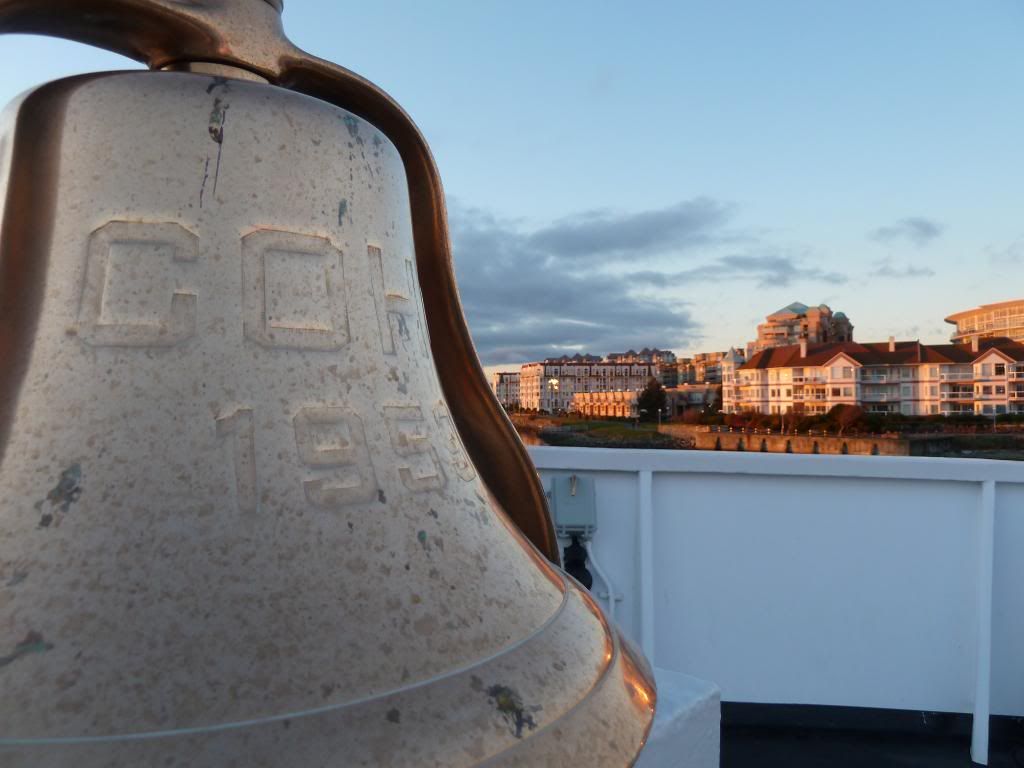 The funnel as we depart Victoria; you can see some "Coho" lights that would be illuminated a few minutes into the open crossing.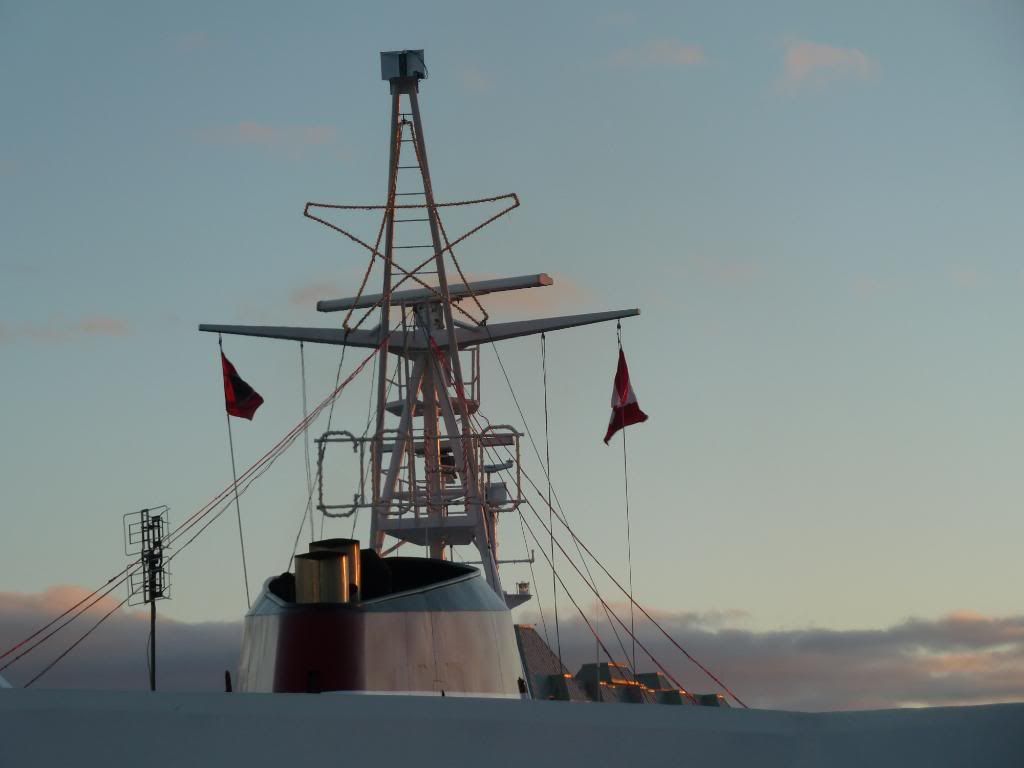 ... and illuminated.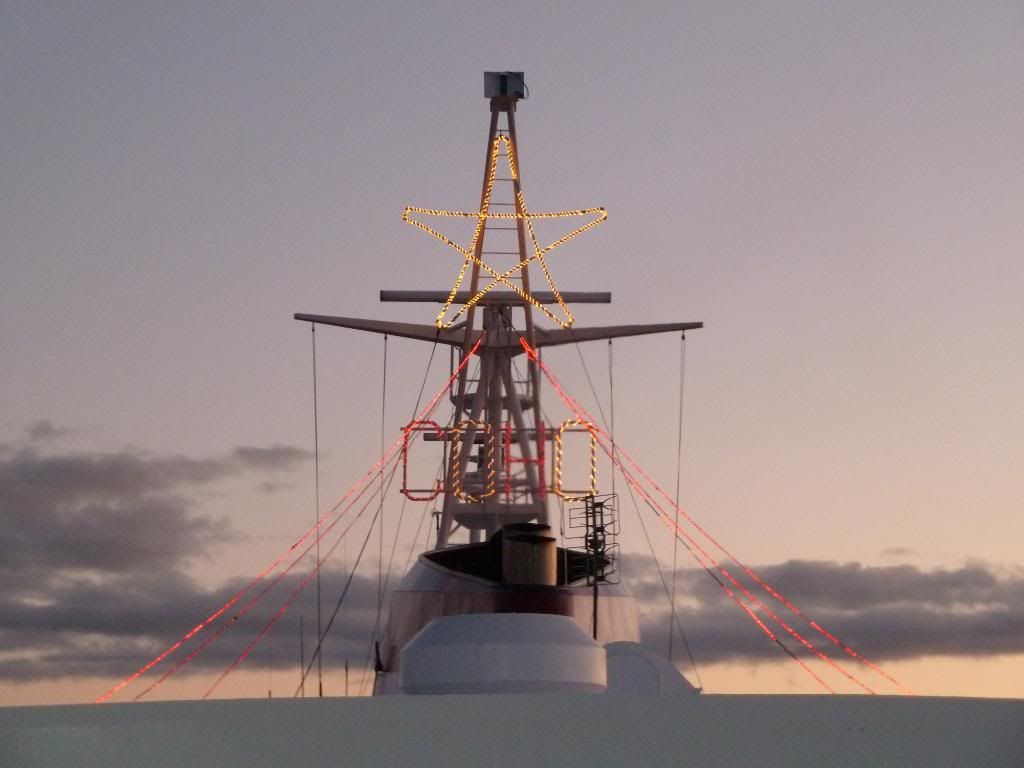 Two dog kennels make a nice touch for passengers traveling with their best friends that require detention facilities.
I am not entirely sure which item on the cafeteria's menu requires Spam. This can of Spam, as a result, scared me a bit.
Some shots of the vessel's interior which appears unchanged from previous journey's by WCFF members.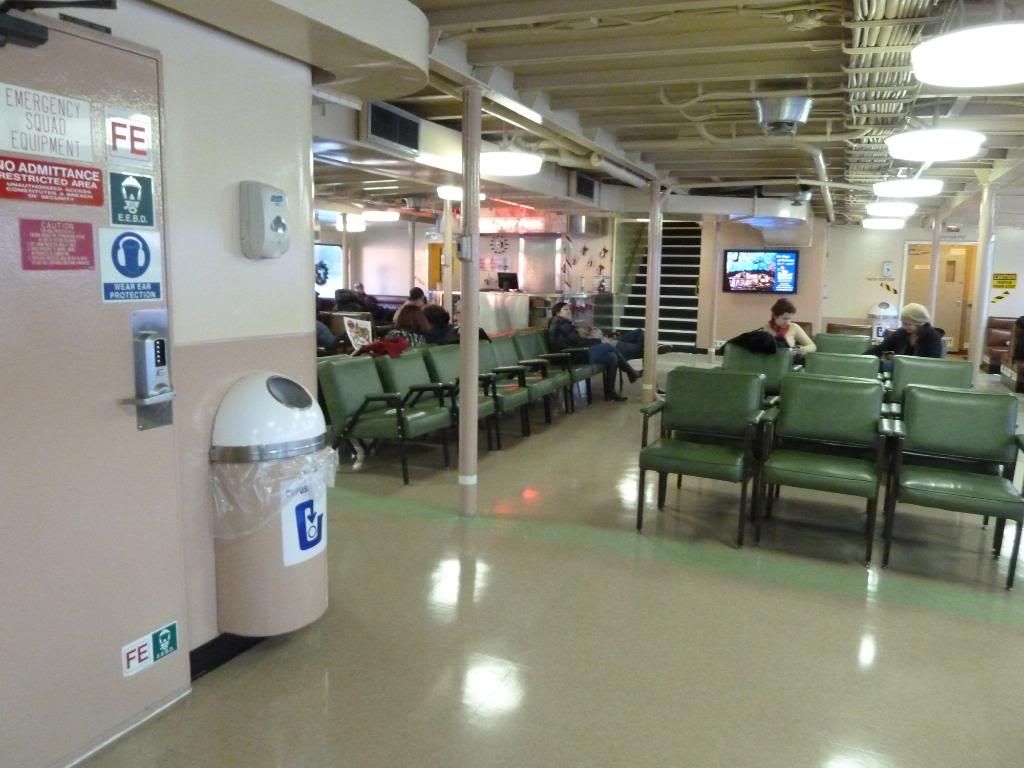 Prices at the duty free were decent, but nothing to get excited about. Since I do not really understand customs laws I decided anything I bought in Canadian waters was free from declaration. This included a Coho salt/pepper shaker, two Coho ornaments, a t-shirt, and wind breaker. These items were bought in the gift shop at the vessel's stern.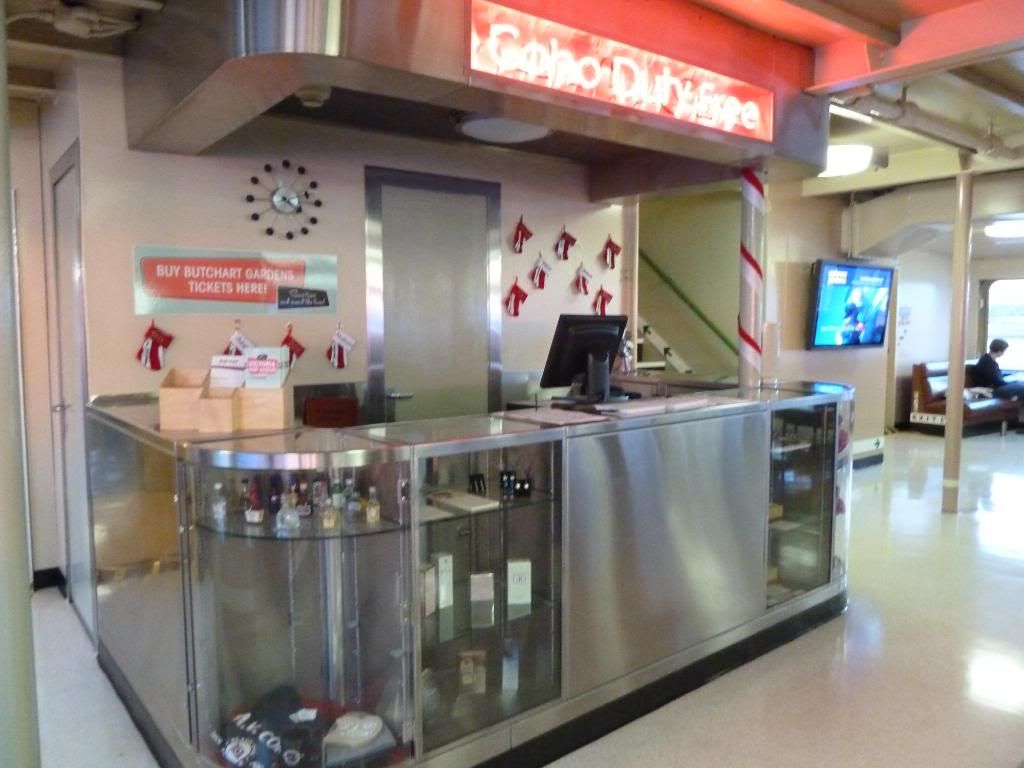 A stair case I assume was eliminated which the cafeteria extension on the Sidney class.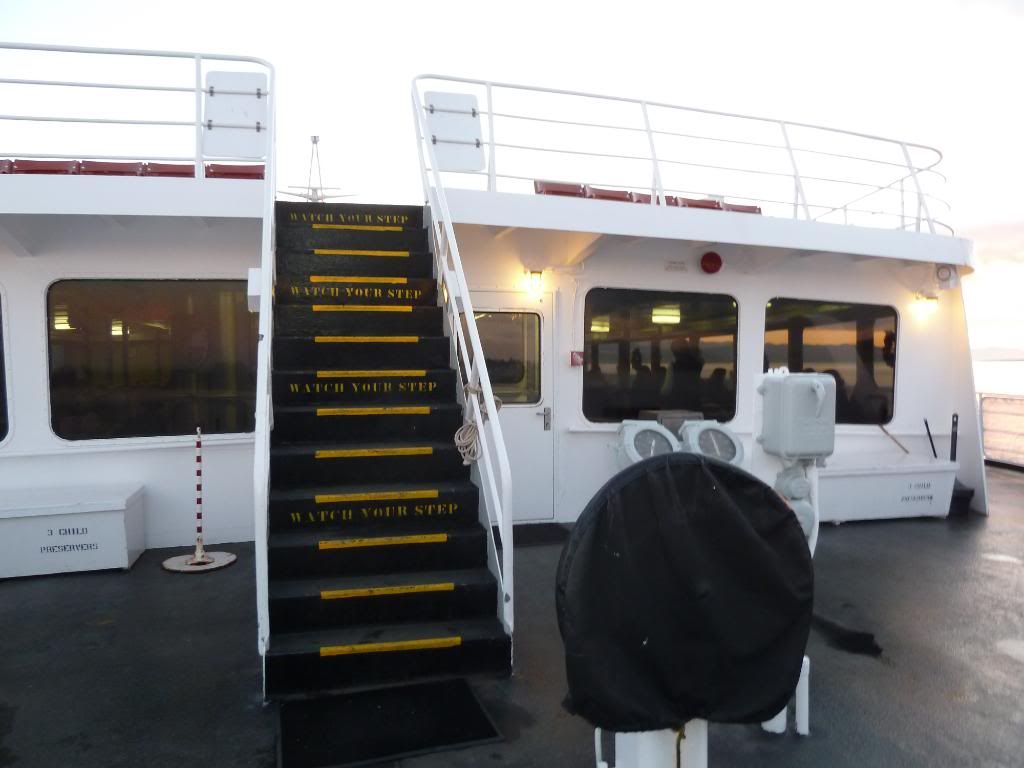 Access to the car deck is cut off to passengers while sailing. This door was open on both sailings and appears to have lead to an unobstructed passage to your vehicle. Not sure what enforcement is like below decks, obviously I had no interest in testing it out.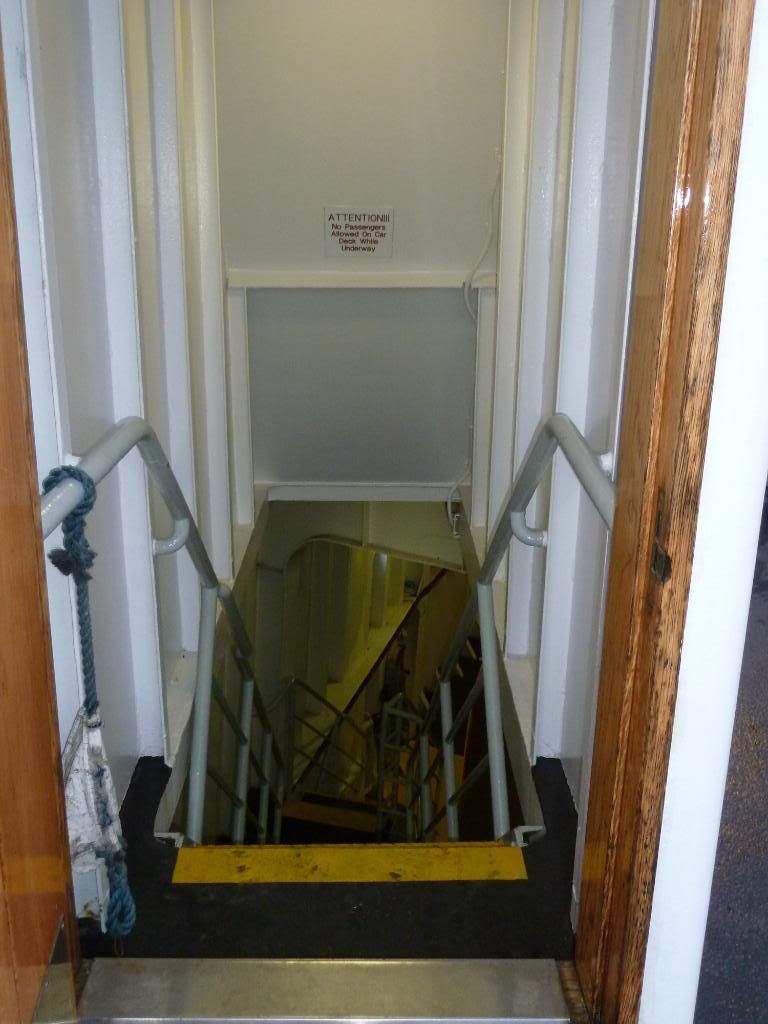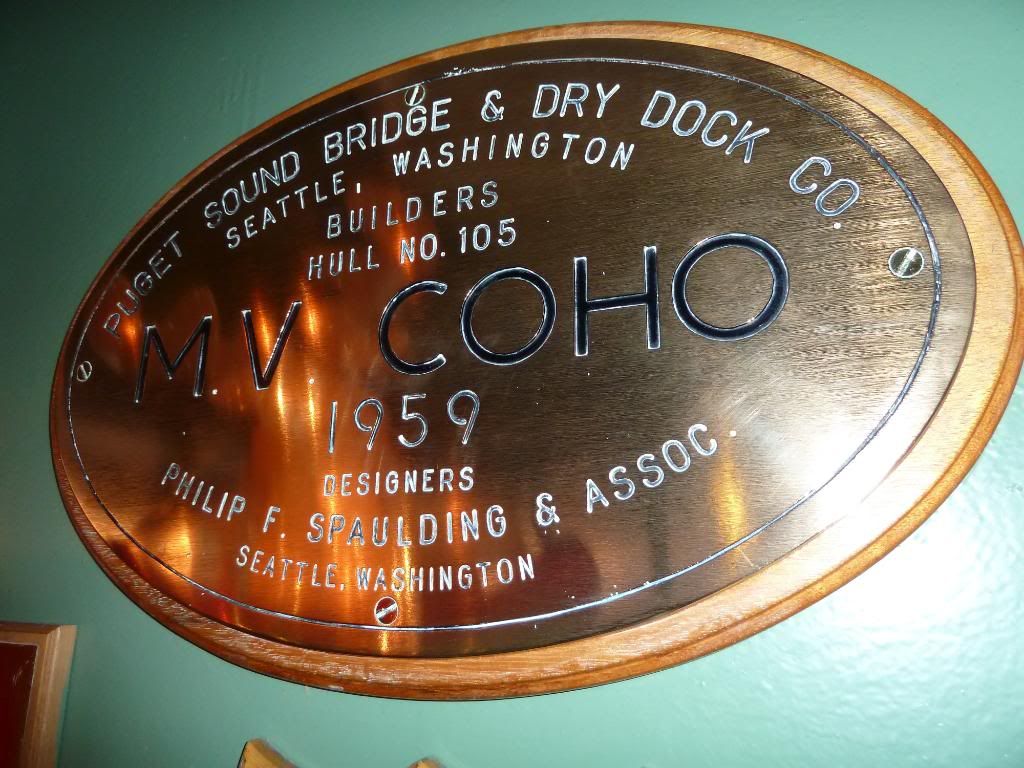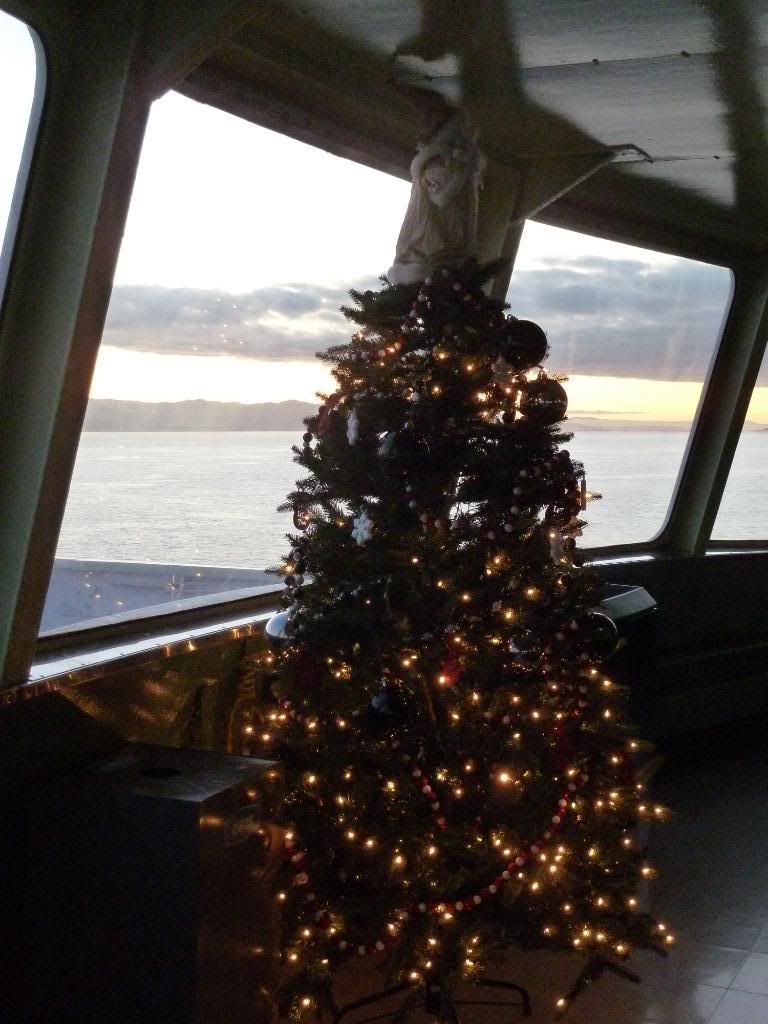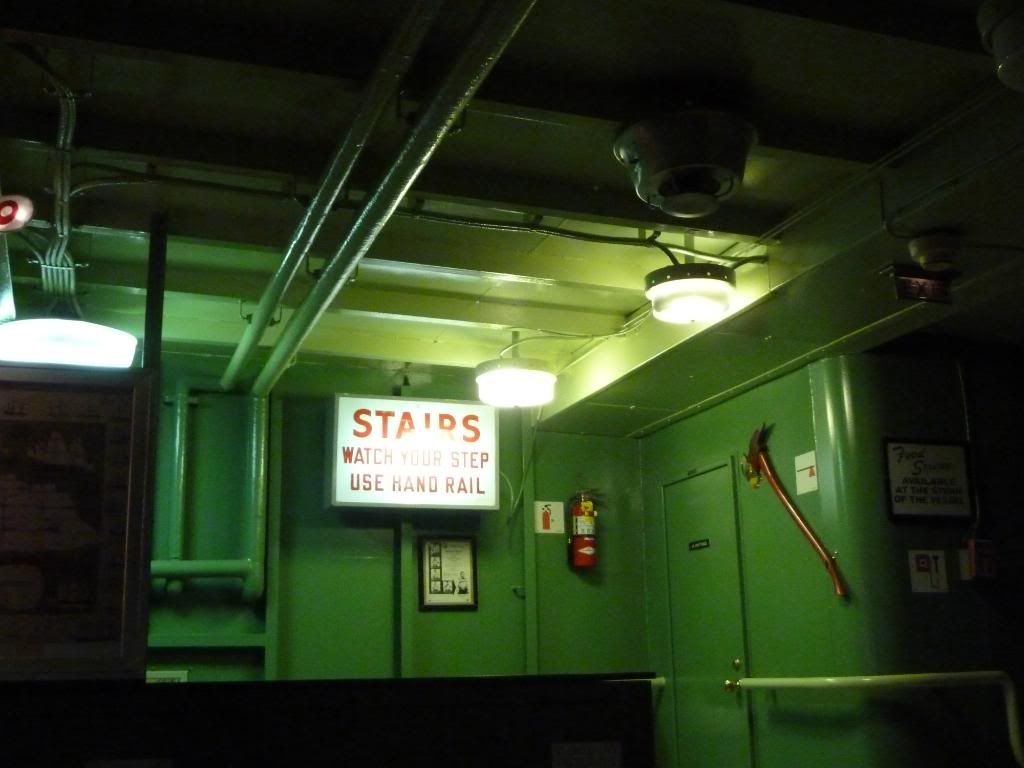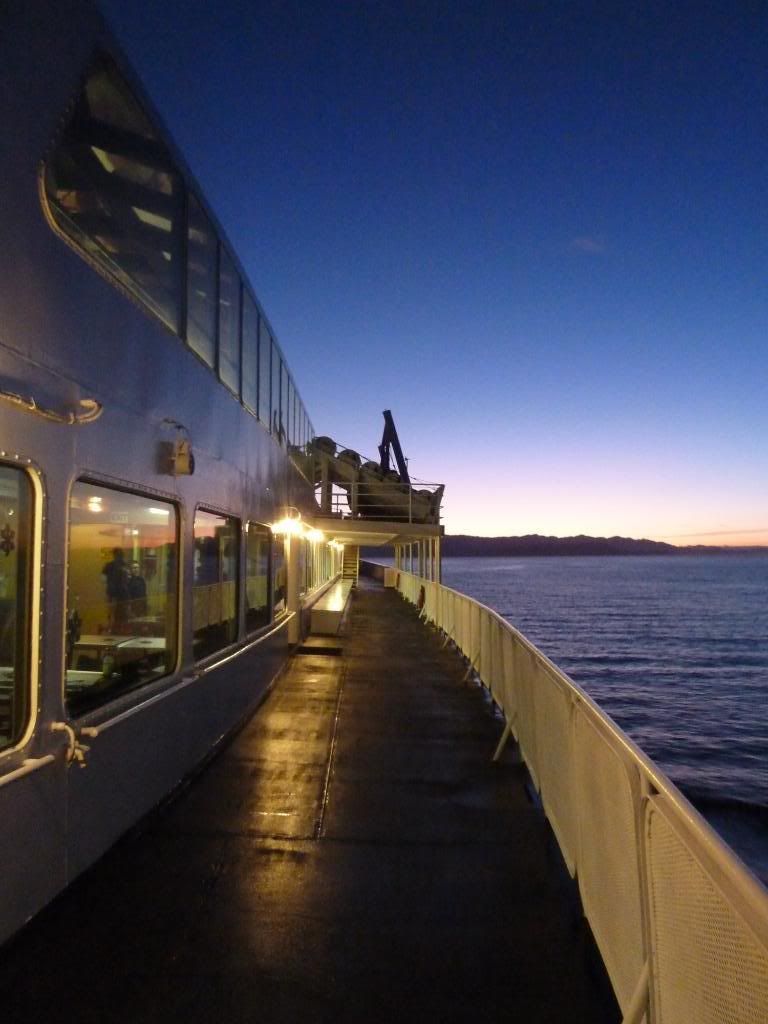 I did not eat on the Southbound sailing except for a delicious & high-calorie Snicker Doodle cookie. Nom nom nom.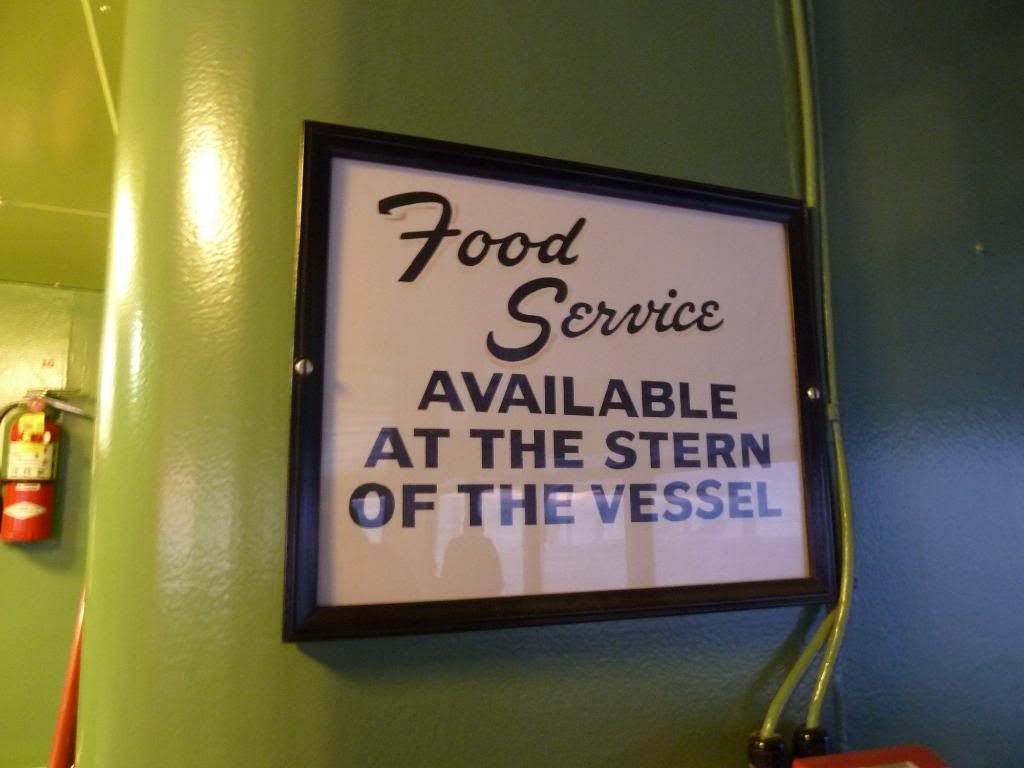 While we were sailing South I was amazed by the rocking of the vessel. It was actually really pronounced. While smooth it was more extreme than anything I have experienced on a BC Ferry. Obviously the waters are substantially less protected but I was really not expecting the amount of roll we were confronted with. It bothered several passengers. Some regulars commented that this was normal. Was surprised by this.
Coming into Port Angeles we were once again met by customs who cleared us quickly and sent us on our way. The Red Lion, our hotel, was a five minute walk away and was of decent quality.
www.tripadvisor.ca/Hotel_Review-g60921-d100485-Reviews-Red_Lion_Hotel_Port_Angeles-Port_Angeles_Washington.html
The rate was okay, but nothing to get excited about. Since I rode home free (Coho birthday deal) it was more manageable.
Waiting to leave the ship.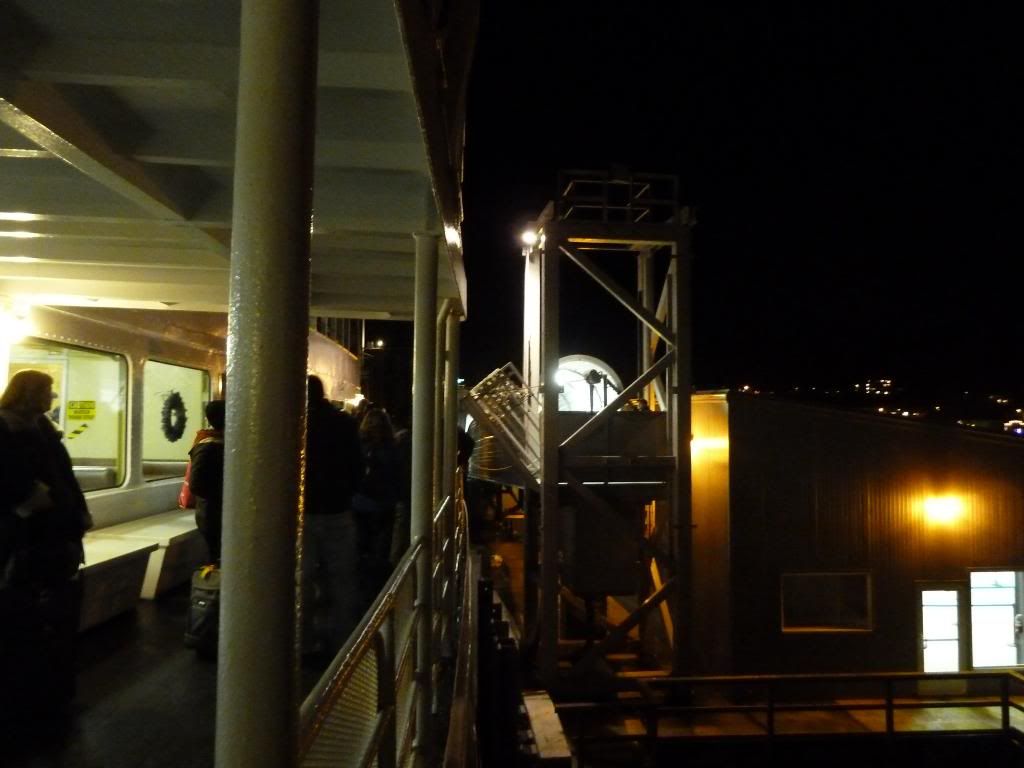 The ship tied too as we walked to the hotel.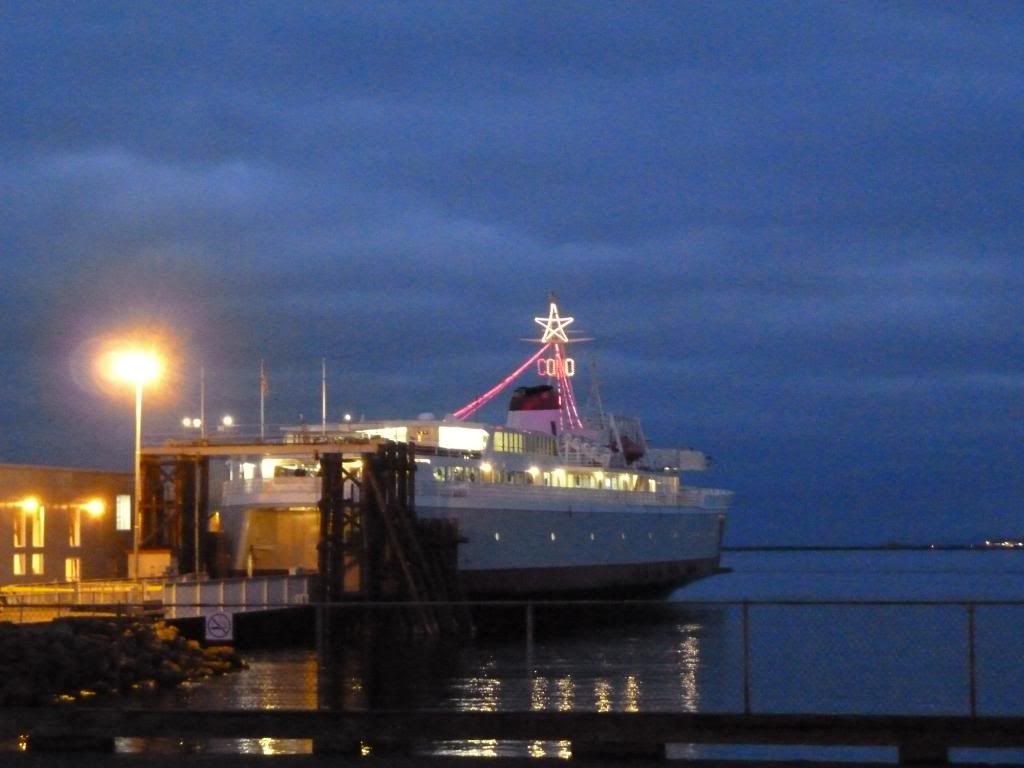 That evening we ate at Jack-in-the-Box, for fun. Still have not recovered.
In the morning I had a chance to actually look at the terminal buildings in Port Angeles as we had to arrive 45 minutes earlier than the published sailing time. The terminal is split into two areas for passengers. First there is a ticket building with local information and tourist info for Victoria.
The waiting room is separated by about 50 or so meters. There is a lovely scale model of the Coho here, and some other relics including a baggage cart.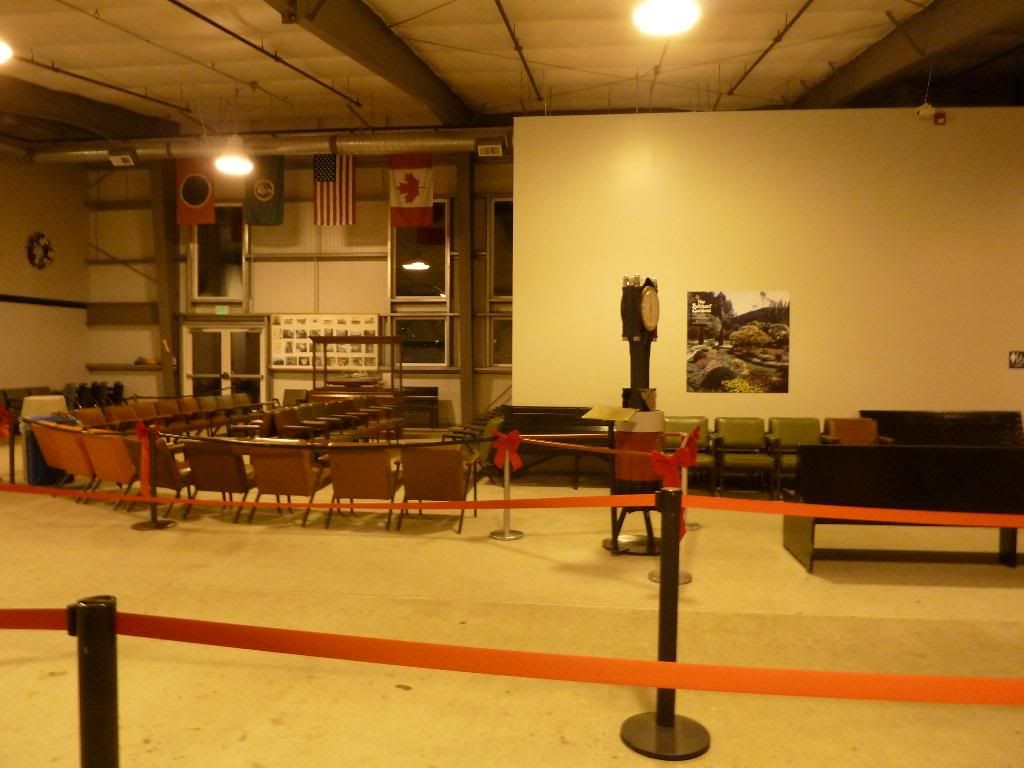 The terminal from the ship.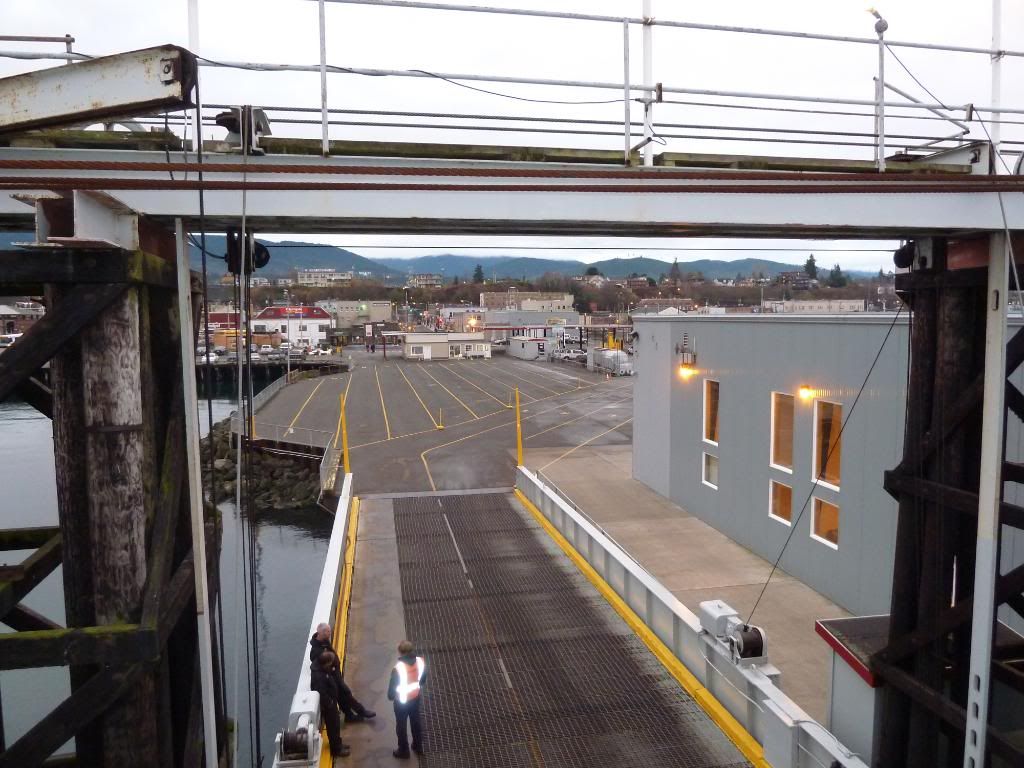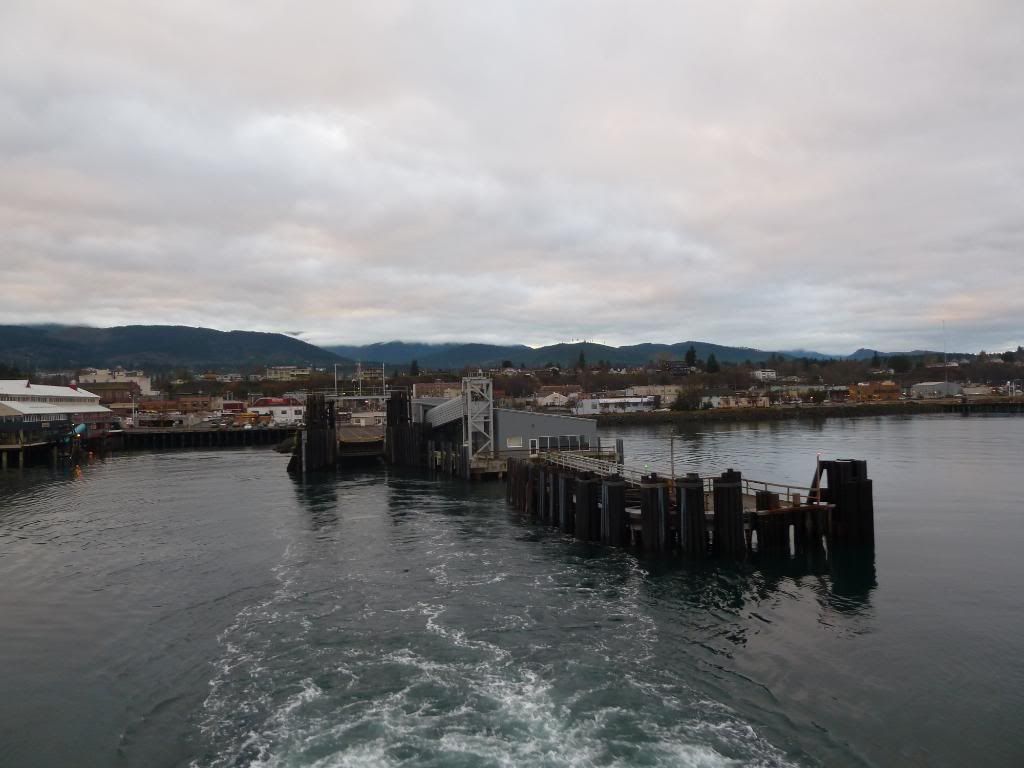 On the Northbound sailing I bought breakfast in the Cafeteria. Still reeling from holiday gorging and Jack-in-the-Box this turned out to be a horrendous decision, just as others have reported in the Coho thread. After taking the ferry to PEI last summer I declared Northumberland to have the worst food on a ship I had ever had. Well, that honour has been stripped and given to Black Ball. The limited selection is priced too, even in contrast to BC Ferries. The currency exchange is also unfair for Canadians by about 15%.
The breakfast sandwiches were lukewarm and lacked flavour. We used some ketchup to try and mitigate this. The tea was that red rose garbage. I do now, however, understand Black Ball's obsession with the cup holders when they installed them with that rocking of the vessel.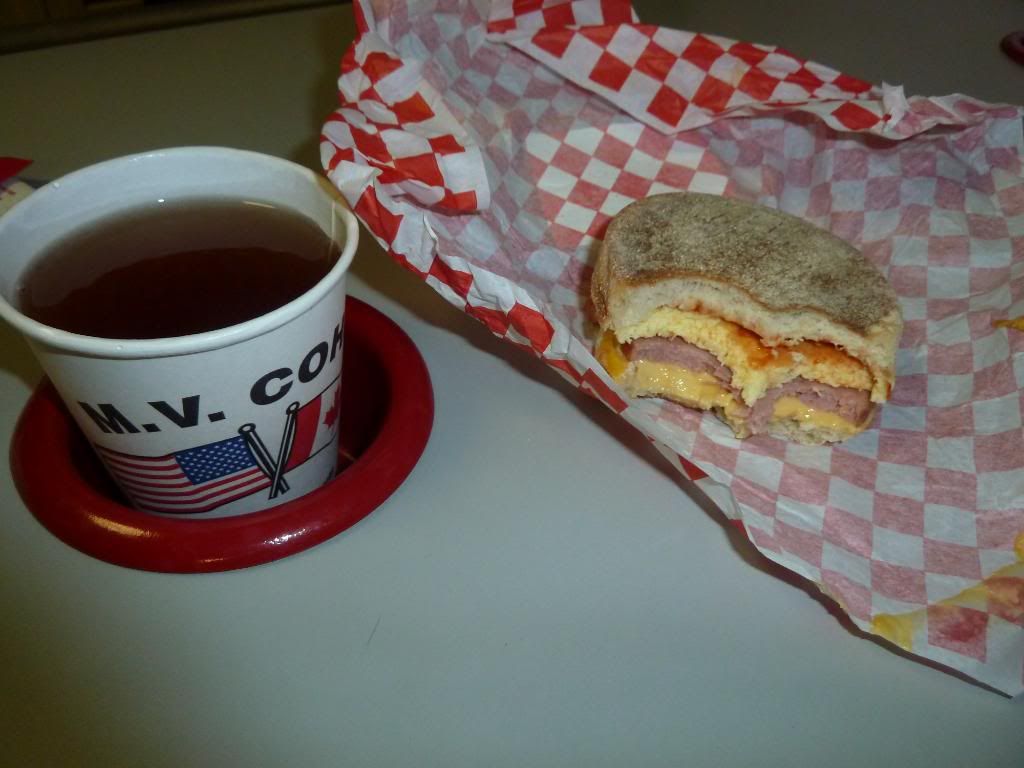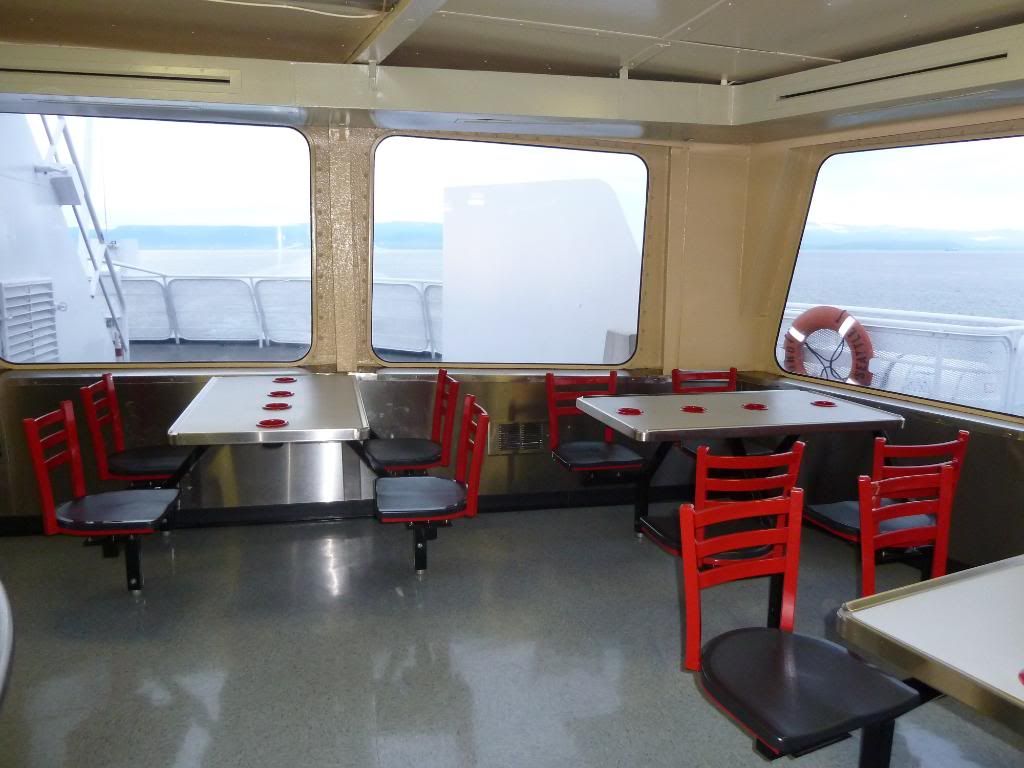 Coming back to Victoria the same amazing scenery greets us, and it was an amazing ride to be sure.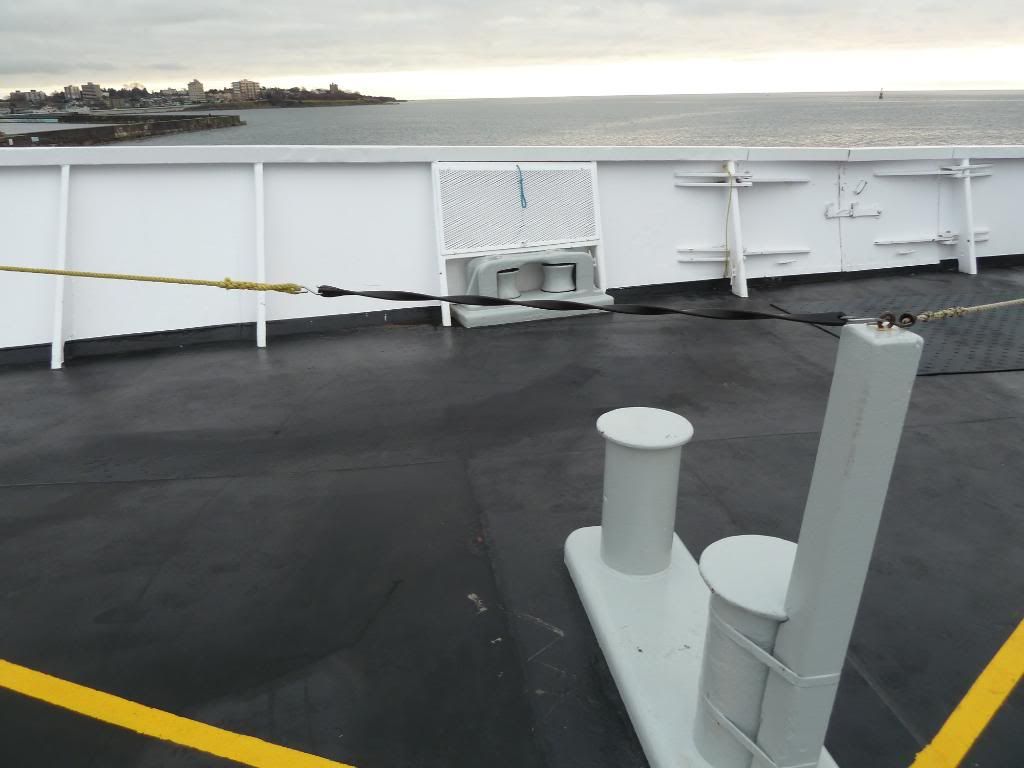 I am happy I had the chance to run the Coho on its current route from Victoria Harbour to Port Angeles. It will be curious to see what the future holds for both this vessel and the route itself. Despite the re-engining of the Coho a few years ago it must become prohibitive to keep the vessel in service at some point.
Also I was intrigued by the route we took. On both crossings we made a very hard turn about 20-30 minutes out of Port Angeles. It seems like a somewhat inefficient route is being used. What's the reason for this? Or is my perception flawed and I am just not getting the route? I was expecting more or less a straight line journey.
Anyways great trip I would recommend. Do not eat their food and be sure to bring money for the exceptional gift shop, almost designed with the ferry fan in mind.