Post by FNS on Sept 16, 2012 9:01:45 GMT -8
Came across this neat photo page of ferry operations on Hood Canal: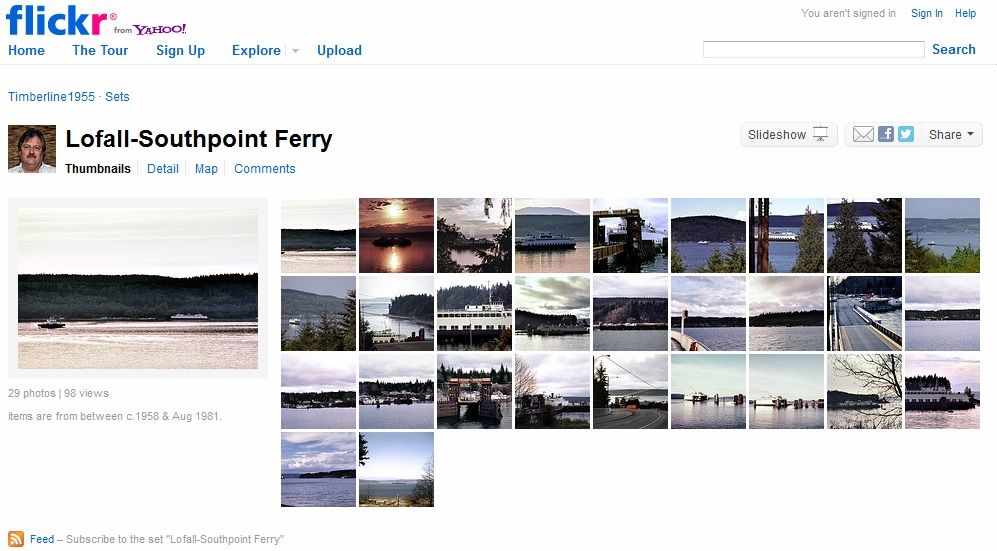 www.flickr.com/photos/9131426@N06/sets/72157626032829240/with/5439364228/
This shows both docks, the RHODODENDRON in the 1950s (when my high school history teacher was Purser aboard the RHODY), the unsuccessful barge that was tried on the run in 1980, and the KLICKITAT, TILLIKUM, KULSHAN, and a passenger ferry.
The route opened in 1950 with the MV VASHON in Black Ball days. After the state took over 80% of PSN's ferries on June 1, 1951, this crossing saw the OLYMPIC, RHODODENDRON, the old KITSAP, CROSLINE, and VASHON. There might have been others, but can't find history books that say. The route closed in 1961 when the then new Hood Canal Bridge was opened to traffic.
On February 13, 1979, a fierce windstorm blew through Puget Sound and sank the west half of the Bridge. The state resurrected the docks at Lofall and South Point and ran a passenger ferry across the Canal with bus connections at both sides that summer of 1979 and placed a Jumboferry on the temporary Edmonds to Port Townsend run. A series of barges were tied together with a ramp at each end and a wheelhouse added along with propulsion and commercial ferry service was provided by the BEACH GIRL out of Port Gamble that year.
In the spring of 1980, WSF had automobile docks ready and tried a barge operation with buses tied to the deck for passengers. This didn't work out after a bad accident occurred with a tug. So, real ferries reappeared on the Canal and the TILLIKUM and KULSHAN were on the run for the rest of that year. Next year, the run had a new I-Class ferry operating with the TILLIKUM and the KULSHAN spent her last summer operating as third ferry next to the ILLAHEE and NISQUALLY on the Columbia Beach run before heading to the East Coast where you can see her today as the GOVERNOR doing trips out of Martha's Vineyard through the lens of the MVTimes webcam. Shortly afterwards, the west span had new pontoons and the Bridge was reopened and the ferries went elsewhere.
About a year later, ferry service was seen again on the Canal with the KLAHOWYA and TILLIKUM serving as some further work had to be done on the Bridge.
Strangely to say, and this route was a very short one of less than two miles, galley service was provided as seen on my crossings aboard the TILLIKUM in 1980 and her encore afterwards. Not enough time to eat a hot dog on that run (I think they were still made the old fashioned way then). Oh, yes, the KULSHAN had a vending machine for coffee. The coin drop was covered by tape lots of times as it was out of order due to the sideways shaking of her little cabin! ;D